Nervous Democrats 'Whispering' About Replacing Hillary Clinton After Fainting Episode, Cokie Roberts Says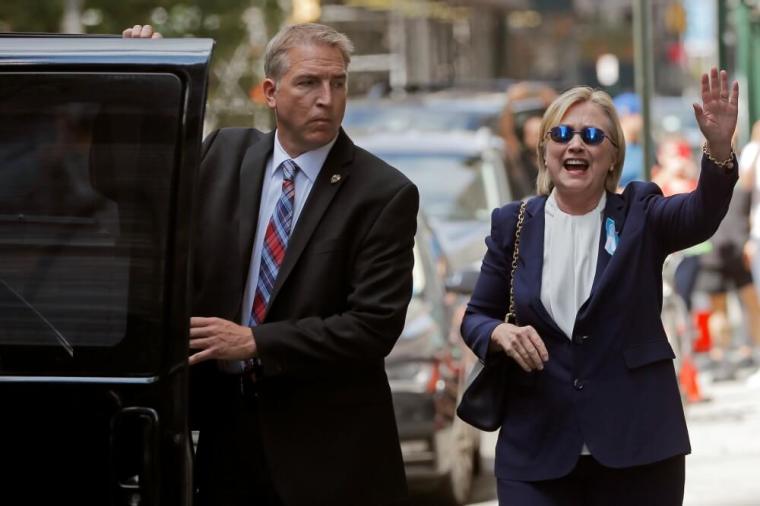 Columnist and commentator Cokie Roberts said an "incredibly damaging" video of Hillary Clinton being helped and stumbling into a van during a Sept. 11 memorial service has led to Democrats "nervously beginning to whisper" about the need to replace her as the presidential nominee.
"Well, people are angry at the lack of transparency" in the Clinton campaign, Roberts said Monday on NPR's "Morning Edition."
"It was hours before the pneumonia diagnosis was revealed, after seeing this incredibly damaging video of her being helped and stumbling into a van. And, look, there's a reason why the campaign's not transparent," she said.
This lack of transparency gives Republican presidential nominee Donald Trump "ammunition," Roberts continued. "And he's been setting her up for this for months."
"I hope she gets well soon," Trump said on Fox News Monday. "I don't know what's going on. The coughing fit was a week ago — I assume that was pneumonia also."
Roberts explained that back in January, Trump started saying that she didn't have the strength and stamina to be president. "And he knew at some point in the campaign schedule that she, like all candidates, would get exhausted. But the fact that it comes now, when the polls are tightening and Democrats were already saying that Hillary was the only candidate who could not beat Trump — and it's taking her off of the campaign trail, canceling her trip to California today …," she said. "It has them very nervously beginning to whisper about find — having her step aside and finding another candidate."
Former Democratic presidential candidate Howard Dean said he was "disgusted" with NPR. "First time I've ever turned off NPR in disgust with Morning editions coverage of HRC. The media really is a disaster in this country," wrote Dean, former governor of Vermont and former Democratic National Committee chair, on Twitter.
During the show, NPR's David Greene asked Roberts, "I mean, is that a real thing? Or is this just some nerves after a weekend of …"
"No, I don't think — I think it's unlikely to be a real thing," Roberts clarified. "And I'm sure it's an overreaction of an already skittish party. But, you know, they have looked at what happens in that circumstance. And the Democratic National Committee chair convenes the committee, and they vote. Now, ironically, the candidate that everybody looks at is Joe Biden, who, of course, is older than Hillary Clinton. But then again, so is Donald Trump. And, by the way, we know nothing about his health."
Greene said the Clinton campaign has said that she is fine and is going to resume her schedule. Roberts responded by saying that while that might be happening, "there is enough unhappiness that this kind of soto voce stuff [whisper campaign] is going on."
Mollie Hemingway, senior editor at The Federalist, who was also part of the show, pointed out that there are "very many different versions" of events of what's going on with Clinton.
"At first, it was allergies — well, first it was nothing. Then it was allergies," Hemingway said. "Then she just was overheated yesterday. Then she came out and said she was fine. Now we're told that it's pneumonia. I think it's incumbent upon journalists to really dig into that and make sure that that fully explains the troubling collapse that we all witnessed on video yesterday."