'The Young Pope' HBO Miniseries Portrays the Pontiff as Atheist, 'Borderline Anti-Christ'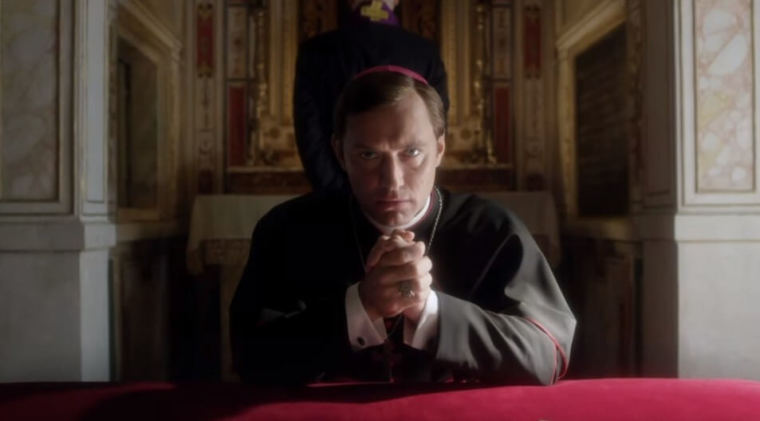 A miniseries soon to be aired on HBO and Sky Atlantic titled "The Young Pope" will feature a pontiff that one prominent review described as "borderline anti-Christ."
The 10-episode series stars Jude Law as Lenny Belardo, who becomes Pope Pius XIII, the first-ever American head of the 1 billion-member Roman Catholic Church.
The Hollywood Reporter described Law's papal character as "borderline anti-Christ" and "arrogant, whimsical and hilariously destructive."
"Could he be about to turn the Church into an extremist, fundamentalist organization? One thing is sure: His message has nothing in common with the love and brotherhood preached by the current Pope Francis," noted the Hollywood Reporter.
"In a scene high up on the dome of St. Peter's, he tempts his humble confessor with immense power if he'll break the secret of the confessional and tell him all the cardinals' sins, at the same time informing him that he personally doesn't believe in God."
The Hollywood Reporter review adds that "this scene may prove to be the limit for some devout Catholics, but one has to wait and see if some redemption is in store for Lenny."
The conservative news outlet Breitbart published a recent assessment of the miniseries through early reviews, questioning aloud if a double-standard on religious portrayal exists for mainstream American entertainment.
"In what is sure to offend perhaps a great many Catholics who might happen upon it, 'The Young Pope' pushes the limits with its portrayal of the papacy — leaving one to imagine if such an outrageously offensive mocking of, say, Islam would be as eagerly paraded to wide audiences," argued Breitbart.
Regarding the spiritual themes of the miniseries, director Paolo Sorrentino said in a statement that it focuses on "the clear signs of God's existence. The clear signs of God's absence. How faith can be searched for and lost."
"The greatness of holiness, so great as to be unbearable when you are fighting temptations and when all you can do is to yield to them. The inner struggle between the huge responsibility of the Head of the Catholic Church and the miseries of the simple man that fate (or the Holy Spirit) chose as pontiff," Sorrentino said.
"Finally, how to handle and manipulate power in a state whose dogma and moral imperative is the renunciation of power and selfless love towards one's neighbor."