New Report Details How Myanmar Military, Gov't Blocked Aid to Christians in Kachin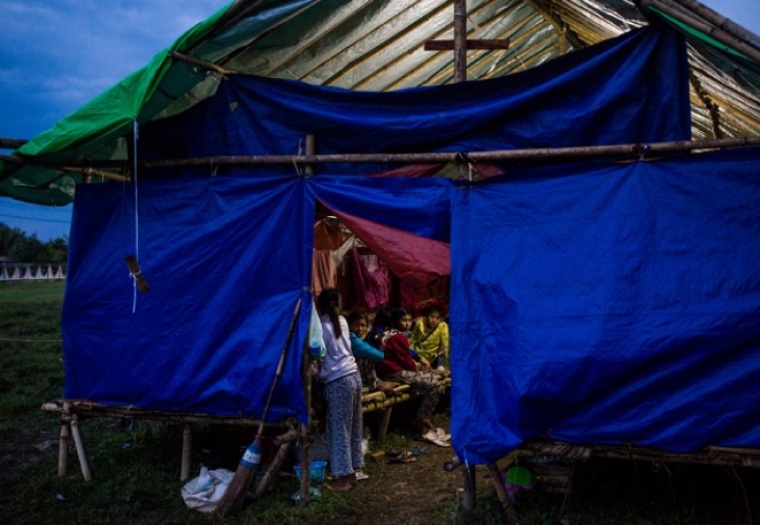 A new 68-page report sheds more light on how the Myanmar military and civilian government may be committing war crimes by blocking lifesaving humanitarian aid to tens of thousands displaced by violence in the Kachin state over the last seven years.
As Myanmar faces increasing international pressure over its genocidal abuses against Rohingya minorities in the Rakhine state, the new report by the human rights group Fortify Rights warns that Myanmar authorities are "weaponizing" and blocking aid in Kachin — where predominantly Christian and Catholic ethnic minorities reside.
The report also suggested that China has privately urged Myanmar to block aid groups and the United Nations from assisting tens of thousands of people near the border of China's Yunnan Province.
"Consecutive governments and the military have willfully obstructed local and international aid groups, denying Kachin civilians access to aid," Fortify Rights CEO Matthew Smith said in a statement. "This may amount to a war crime, giving even more reason for the U.N. Security Council to refer Myanmar to the International Criminal Court."
Although it has been widely known since a ceasefire ended in 2011 between the military and rebel forces that civilians in Kachin have lacked adequate access to aid, the new report provides a more detailed look into how and why aid has not reached those communities through 195 interviews conducted over the last five years.
The report states that there are over 106,000 ethnic civilians displaced by conflicts in both the Kachin and Shan states who are now living in more than 140 displacement sites.
Fortify Rights visited 20 displacement camps in Kachin to interview witnesses, survivors, United Nations officials, humanitarian aid advocates, soldiers with the Kachin Independence Army and representatives of the Kachin Independence Organization.
"They block everything," a 60-year-old displaced Kachin man in KIA-controlled territory said of the Myanmar military, adding that there is "no food for people on the border."
The man told the researchers that "all trucks that are trying to cross into KIA-controlled areas are blocked."
The rights group reports that from June 2017 to June 2018, the civilian government of Myanmar (which is headed by Nobel Peace Prize laureate Aung Sang Suu Kyi and has little control over the military) only provided unconditional approval to about 5 percent of 562 "travel authorization" applications submitted by international humanitarian agencies to aid displaced communities in government-controlled areas of Kachin.
An even smaller percentage of requests were approved for aid groups seeking access to KIA-controlled areas.
In Kachin, several churches are serving as displacement shelters. The Kachin Baptist Convention is one of the largest aid providers in the region.
However, the report highlights how Myanmar authorities sent a letter to the convention in May, threatening prosecution under the Unlawful Associations Act because the convention was traveling to deliver aid in KIA-controlled areas. The law is punishable by up to three years in prison, Fortify Rights warns.
The report explains that even when aid groups are allowed to travel, there are "burdensome conditions" that limit the effectiveness of the aid that is provided. Those conditions include restrictions on travel routes, delivery locations and types of aid that can be provided.
Fortify Rights warns that aid groups have "all but stopped" submitting requests to the civilian government for access to KIA-controlled territory.
The rights group maintains that the civilian government's process for humanitarian travel authorization violates international law because it has led to "undue delays" in aid delivery and has also "completely obstructed humanitarian operations" in some areas of the state.
The group notes that policies of the Suu Kyi government show "continuity" of the policies of President President Thein Sein to "deprive war-affected Kachin civilians of adequate humanitarian aid." Suu Kyi has been in power since 2016.
According to Reuters, Myanmar said the report had "false allegations."
The report notes that the displaced population in Kachin faces lack of access to medical care and many are forced to live in shelters that are in need of repair and are too small to accommodate residents.
Additionally, displaced people are exposed to cold and snowy winter conditions without having the proper bedding and warm clothing.
"Without necessary aid and assistance in camps, displaced civilians are often forced to take risky journeys, including through active armed-conflict zones and across the border to China, in search of food, livelihoods, and essential items," the report reads. "The presence of the Myanmar Army and the ubiquitous use of landmines by the Myanmar Army and the KIA heightens risks for displaced civilians traveling outside displacement camps."
Since the ceasefire ended between the military and Kachin rebels in 2011, over 400 Kachin villages are reported to have been destroyed.
Last week, the a U.N. fact-finding mission released a 20-page report calling on the Myanmar military to be investigated for acts of genocide in the Rakhine state and crimes against humanity in the Kachin and Shan states.
"These policies and practices violate Myanmar's obligations under international law and amount to criminal conduct. They are also unwarranted; military necessity would never justify killing indiscriminately, gang raping women, assaulting children, and burning entire villages," the mission report states. "The [Myanmar military's] tactics are consistently and grossly disproportionate to actual security threats, especially in Rakhine state, but also in northern Myanmar."