US Sanctions Myanmar Military Over Human Rights Atrocities Against Rohingya, Christians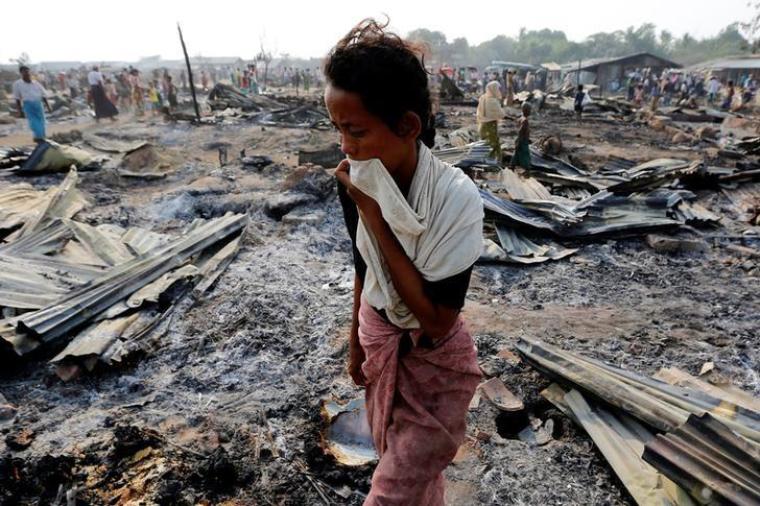 The Trump administration has sanctioned Myanmar military forces for their "ethnic cleansing" of the Rohingya population in Rakhine state and "widespread human rights abuses" against Christians and other religious minorities in two other states.
Amid consistent calls from activists for the United States to act in response to what they say is a genocide in the Asian country, the Treasury Department announced Friday that its Office of Foreign Assets Control has sanctioned four Burmese military and Border Guard Police commanders as well as two Burmese military units.
The sanctions come in response to what the U.S. government has described as an "ethnic cleansing" of the predominantly Muslim Rohingya minority in Rakhine. These actions are also in response to the persecution and violence faced by many in the Kachin and Shan states; however the ethnic cleansing designation was not applied in those cases.
The sanctions impact Burmese military commanders Aung Kyaw Zaw, Khin Maun Soe, Khin Hlaing and BGP commander Thura San Lwin. The sanctions also impact Myanmar's 33rd Light Infantry Division and 99th Light Infantry Division, which the U.S. says has overseen the abuse in those three areas.
The sanctions were issued in accordance with the Global Magnitsky Human Rights Accountability Act of 2016, which allows the U.S. to target perpetrators of human rights abuses by seizing U.S. assets or issuing travel bans.
As a result, assets those leaders of divisions have within American jurisdictions are no longer accessible.
"Burmese security forces have engaged in violent campaigns against ethnic minority communities across Burma, including ethnic cleansing, massacres, sexual assault, extrajudicial killings, and other serious human rights abuses," Sigal Mandelker, Treasury under secretary for terrorism and financial intelligence, said in a statement. "Treasury is sanctioning units and leaders overseeing this horrific behavior as part of a broader U.S. government strategy to hold accountable those responsible for such wide scale human suffering."
Mandelker assured that there must be "justice for the victims" and those responsible need to be "held to account."
The announcement comes about a year after the Myanmar military began its crackdown against the Rohingya.
"The U.S. government is committed to ensuring that Burmese military units and leaders reckon with and put a stop to these brutal acts," he contended. "We will continue to systematically expose and bring accountability to human rights abusers in this region and many others and greatly appreciate the efforts of civil society who are doing the same."
Activists have ramped up pressure in recent weeks for the U.S. State Department to label what Myanmar has done in the Rakhine state, where over 700,000 Rohingya have fled to seek safety in Bangladesh, as genocide.
"We have confidence that Secretary Pompeo and President Trump will do the right thing for Burma, for America, and for the world by drawing a line in the sand to officially declare the actions of the Burma military to be genocide, and to reimpose full sanctions excluding food and medicine" Imam Malik Mujahid, chair of the Faith Coalition to Stop Genocide in Burma, said in a statement.
An explosive report released recently by the human rights organizations Fortify Rights documents how the military forces planned the attack against the Rohingya community that began on Aug. 25, 2017, and even trained neighboring civilian communities to attack the Rohingya in a genocide-like manner.
"Sanctions on Myanmar is the right response to the ethnic cleansing of Rohingya Muslims there," Sen. James Lankford, R-Okla., wrote in a tweet. "The right to practice any faith, or have no faith, is a human right of every person, whether they belong to a minority or majority religion in their country."
The military forces have also terrorized civilians in the Kachin and Shan states. In the Kachin state, over 130,000 people are now internally displaced due to an increase in violence in the region. Many are seeking refuge in Baptist churches throughout the region.
Evangelical Texas Pastor Bob Roberts, who recently traveled to Kachin, expressed concern with the fact that the same forces who terrorized the Rohingya in Rakhine are the same entities that are terrorizing the Kachin people. According to Roberts, nearly 60 churches have been destroyed in the last year-and-a-half in the Kachin state and about 20 of them have been turned into Buddhist pagodas.
Myanmar has a civilian-led government that is headed by Nobel Peace Prize laureate Aung San Suu Kyi, which has led many to wonder why these human rights abuses are taking place. The problem is that the government doesn't have control over the military.
The State Department is still weighing weather to designate the atrocities against the Rohingya a genocide.
"Unlike 'ethnic cleansing,' genocide has legal meaning. If the Obama administration had acknowledged the Rohingya crisis as a religious genocide, it could have forced a different policy response with the potential to prevent further attacks," prominent human rights lawyer Nina Shea wrote in an op-ed Friday. "Even now, Secretary of State Mike Pompeo can still make a finding of genocide, and he should. It will strengthen survivor claims to compensation, restoration, and justice, while reiterating that America recognizes the central importance of religious freedom to the growth of emerging democracies abroad."