New Report Details How Myanmar Military Systematically Planned the Rohingya Genocide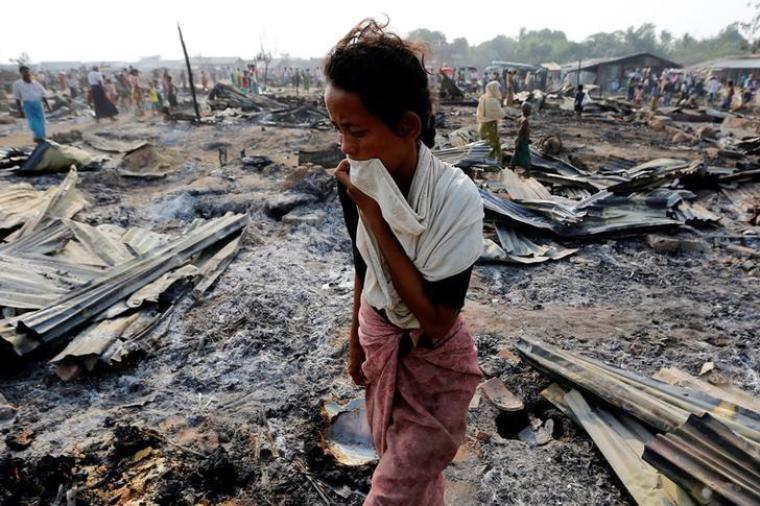 An extensive new report based on over 250 interviews with survivors and military personnel contradicts the Myanmar government's claims about the attacks on Rohingya communities and details how authorities trained neighboring civilian communities to attack the Rohingya in a genocide-like manner.
The human rights organization Fortify Rights released a 160-page report, titled "They Gave Them Long Swords," earlier this month focusing on the events that led up to the attacks of hundreds of Rohingya villages in the Northern Rakhine state last August.
The onslaught caused over 700,000 Rohingya, a majority of which are Muslim, to flee to neighboring Bangladesh in what was said to be the fastest refugee outflow since the Rwandan genocide in 1994.
The report reveals that there are reasonable grounds to believe that the Myanmar military has committed genocide and crimes against humanity.
"The Myanmar authorities for months have been peddling to the diplomatic community and the international community this narrative that they were simply responding spontaneously to terrorist attacks on Aug. 25," Fortify Rights CEO Matt Smith told The Christian Post. "What we documented was that the authorities were actually making preparations for many months in advance for what amounted to mass atrocity crimes. In piecing it together, it's a very sinister picture."
The new report is based off a 21-month investigation relying on 254 interviews with survivors, eyewitnesses, Myanmar military troops, police personnel, current and former members of the Arakan Rohingya Salvation Army, humanitarian aid workers, doctors and others with knowledge of the situation.
The organization documents how Myanmar authorities committed mass killings and rape and destroyed hundreds of Rohingya villages. Although the Myanmar government claims its attack on the Rohingya was the result of Rohingya militants attacking dozens of police outposts, the report shows that what happened last Aug. 25 was the result of weeks and months of preparation and planning on the part of the Myanmar military.
"The authorities were effectively disarming Rohingya civilians while arming non-Rohingya civilians, basically training those communities to inflict violence on the Rohingya. They activated them on Aug. 25 and there were whole massacres," Smith said. "We also documented how authorities cut humanitarian aid in the weeks and months before Aug. 25. They cut food aid. There were at the time more than 80,000 children under the age of five who were suffering severe, acute malnutrition."
According to Smith, the Myanmar government was essentially "weakening" the Rohingyas before the massive attack against them.
"The authorities also moved a huge number of soldiers. We documented how the Myanmar army deployed 27 battalions," Smith explained. "A conservative estimate would suggest that about 11,000 soldiers were operational on the ground in addition to about 900 police combat personnel — basically SWAT teams. It was a very brutal and systematic operation."
The report states that the Myanmar military "systematically collected sharp or blunt objects" from Rohingya civilians and intentionally tore down fencing and other structures around Rohingya homes.
Fortify Rights identifies 22 military and police officials with command responsibilities for "clearance operations" in the Rakhine state who should be criminally investigated and potentially prosecuted for crimes against humanity. Among those 22 are Commander-in-Chief Senior General Min Aung Hlaing, Deputy Commander-in-Chief Vice Senior General Soe Win and the Joint Chief of Staff of the Army, Navy, and Air Force General Mya Tun Oo.
In order for such crimes to be brought to the jurisdiction of the International Criminal Court, the cases must be referred by the United Nations Security Council. Smith said that there is precedence for such a referral, pointing to the genocide that occured in Darfur over a decade ago.
Leaders from Fortify Rights met with officials from the United States State Department and the U.S. National Security Council last week to press the issue. Smith said he is calling on the administration to support a referral to the ICC and do everything it can to ensure that fellow U.N. Security Council member China also supports a referral.
"Right now, American citizens can and should call upon the administration. We know members of the administration care deeply about this issue. They understand the severity of it," Smith said. "There is a high-level of concern here in Washington, D.C. Our Rohingya colleagues find hope in that but we need to make sure it is followed up with action."
Following last week's State Department Ministerial to Advance Religious Freedom, the State Department released a statement of concern condemning the human rights atrocities in the Rakhine, Kachin and Shan states of Myanmar.
Although delegations from over 80 countries attended the ministerial, only 10, including the U.S, signed onto the statement condemning the Myanmar government.
"One would imagine in a situation in which there is genocide in Rakhine and crimes against humanity in the Kachin and Shan states that it would illicit more concern from the international community," Smith said. "It is disappointing, to say the least that only 10 countries would lend their support to that [statement]. It is very disturbing."
Fortify Rights began its investigation in October 2016 when it was trying to document authorities' attacks against Rohingya in the Maungdaw Township that occured in October and November of that year.
"Huge numbers of people disappeared. [The military] did that and the international community failed to act in many ways and that is when they started making preparations for round two," said Smith.
"Right now, we have been trying to communicate to as many people as we can that this does not necessarily mean that we have seen the last of this. There is still more than 400,000 Rohingya in Rakhine state and if the international community fails to act again, we are worried that we are going to be documenting more massacres five, six, 10 months from now."
In addition to the over 700,000 Rohingya who have fled to Bangladesh, at least 130,000 people in the Kachin state have been displaced from their homes and are now living in displacement camps being run by the Kachin Baptist Convention due to continued military attacks on their lands.
"In the last 18 months, they have bombed 60 churches. Of the 60 churches they have bombed, they have put Buddhist pagodas in 20 of those sites to reclaim them. It is a pretty severe thing," Texas evangelical Pastor Bob Roberts, who recently traveled to Kachin, told The Christian Post in an interview earlier this month. "[To] be clear, most of it is about ethnic cleansing."