2 Families Survive Months in Mynamar Jungle, Cross Landmines Before Taking Refuge in Church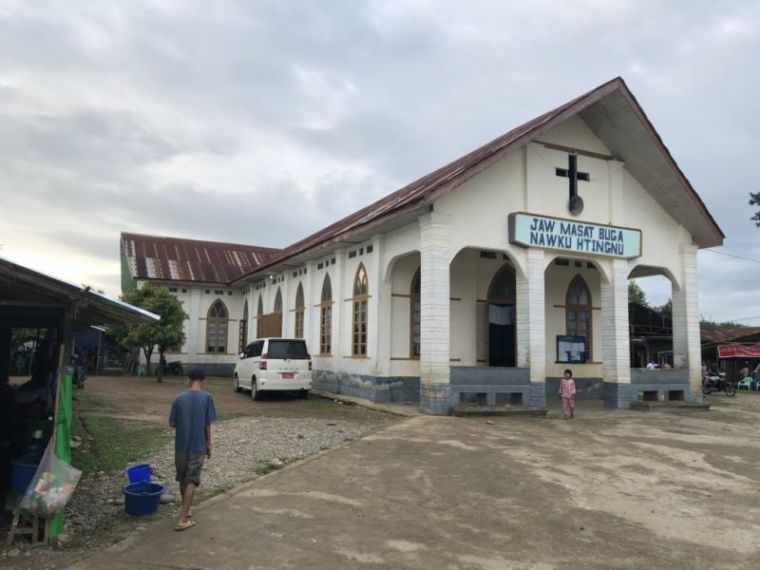 Fleeing violence in their home village, two families from the predominantly Christian Kachin state in northern Myanmar survived two months in a forest and had to cross over a landmine-ridden terrain before they were finally able to find refuge at a Baptist church.
As violence against the Kachin people and its Christian community has increased in the past several months while clashes between the government and the Kachin Independence Army has picked up, as many as 130,000 have fled from their homes and are now living in churches throughout the state that have been turned into makeshift displacement camps.
In April, it was reported that over 2,000 people from the Tanai Township were forced to flee their homes and were trapped in the nearby forest when fighting broke out in areas around the villages of Sut Yang, Sut Ya and Awng Lawt.
Burma News International reported Thursday that nine displaced people from the village of Awng Lawt arrived at a displacement camp in the Kachin capital of Myitkyina at the end of June after hiding in the forest for two months.
Among those reported in the group were members of two families. The oldest was a 70-year-old woman and the youngest were two 8-year-old children.
Daw Labya Htu San, one of the people in the group, told the independent news agency that it took so long for the group to arrive at the Jaw Masat Kachin Baptist Church displacement camp because they were unfamiliar with the roads and encountered Myanmar military troops on the way.
"We ran in the direction of [mountain] Maji Bum but we met a group of IDPs who were coming down the mountain at Sani Chaungzone. We spent a week at the In Sant Creek with them after the government army arrived in that direction," Daw said. "We had to cross between the landmines as if we were planting paddies on the road even though we were scared."
Daw explained that they also had to deal with flooding and said that leeches got stuck to their bodies.
"[W]e faced many difficulties," she said. "When we heard that the [army] troops left the Maji Bum, we went back there.
But while the group was there, Tinghpang Naw Ja, a member of the group who was about 35 years old, was arrested on May 20 while he was coming back from Ka Phan Creek. The group went to the village to look for him but had no luck. The group has not heard from Tinghpang since he was detained.
"We didn't hear any news about him so we held a prayer ceremony for him," Daw said.
The nine from Awng Lawt have joined thousands of other displaced Kachin people, 95 percent of whom are Christian, in taking refuge at Kachin Baptist Churches.
According to Texas evangelical Pastor Bob Roberts, who recently traveled to Kachin, nearly every Baptist church in Kachin that is still standing is housing anywhere from hundreds to thousands of displaced persons.
"The Kachin Baptist Convention is the one that is doing the relief and they are the ones that are trying to help them," Roberts, the founder of Northwood Church in Keller, Texas, told The Christian Post on Monday. "I was at many churches that would have a mini chapel that would hold a couple of hundred people, maybe 300 at most. And they have literally tents built with bamboo. There are literally hundreds of people there."
The Democratic Voice of Burma reports that over 6,000 Kachin people have fled from their homes since April.
According to the Kachin Baptist Convention, there are over 60 IDP camps in the state.
However, the Myanmar government is reportedly looking to shutdown IDP camps in Kachin and other conflict-ridden states such as the Rakhine state, where the Myanmar military committed acts of genocide against the Muslim Rohingya people.
Kachin Baptist Convention Chairman Hkalam Samson told DVB that the Myanmar government should be looking to prioritize cease-fire agreements instead of shutting down displacement camps that are helping people with no place to go. Especially in Kachin, displaced individuals don't have the option of seeking refuge outside of the country since the border nations of India and China will not let them cross into their countries.
"In Rakhine [State], they can go back. But the Kachin and Shan people can't go back [to their] homes," Samson was quoted as saying. "There is no peace. It [the cease-fire agreement] should be made a priority."
Conflict in Kachin is nothing new as clashes between the Kachin rebels and the Myanmar military have been off and on for decades. Roberts told CP that over the last seven years, as many as 450 Kachin villages have been destroyed.
Roberts said that he is troubled by the trend over the last year-and-a-half. In the last 18 months, Roberts said, 60 Kachin churches have been bombed and as many as about 20 of them have been replaced with Buddhist pagodas.
In addition, there have been numerous reports of rape and countless innocent lives being lost. Just in the last year-plus, Roberts reports, there have been over 600 violent encounters with jets and helicopters in the Kachin state.
"I spent time talking to a man who was with his son taking care of his cattle in the field and these jet fighters and helicopters came and started shooting and killed his son and shot him in the knee," Roberts said. "He had to hurry up and then bury his son and then leave the village."