New York Chapter of Boy Scouts of America Hires Openly Gay Adult, Pascal Tessier, Breaking Rule of National Organization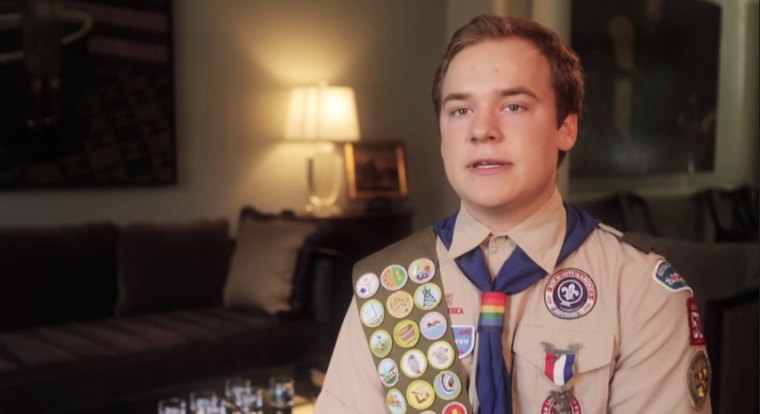 The New York chapter of the Boy Scouts of America broke the organization's national ban on openly gay adults serving in the institution this week when they announced Thursday that they had hired 18-year-old Eagle Scout Pascal Tessier to work as a camp counselor at the Ten Mile River Scout Camp in upstate New York this summer.
The New York chapter told The Washington Post that the organization got an application from Tessier, who is openly gay, and decided he was qualified based on his merits. Tessier has also been actively advocating for the inclusion of openy gay scout leaders in the organization for several years now.
"I'm sure it won't be a surprise to know he's excited that he got the job," Zack Wahls, executive director of Scouts for Equality, told The Washington Post.
"The lion's share of the credit here goes to the New York council for stepping up to the plate. … There are a lot of chapters that say they don't discriminate, but they just talk the talk. The Boy Scouts in New York walk the walk," he added.
The decision, however, is a direct challenge to Boy Scouts of America's national policy to keep adults who openly identify as gay out of the organization.
According to the adult leadership standard of the organization, "While the BSA does not proactively inquire about sexual orientation of employees, volunteers, or members, we do not grant membership to individuals who are open or avowed homosexuals or who engage in behavior that would become a distraction to the mission of the BSA."
In May 2013, some 1,400 delegates of the 105 year old organization voted overwhelmingly to adopt an amendment to lift the ban on openly-gay youth in the organization after a contentious challenge to their membership policy. Sixty-one percent of the delegates voted in favor of the resolution while 39 percent voted against it but they held the line on banning openly gay adults.
LGBT activist groups have since been lobbying for the inclusion of openly gay adults in the organization.
Last June, Attorney General Eric Holder criticized the organization for its ban on openly gay adults and accused it of "only [preserving and perpetuating] the worst kind of stereotypes."