New York Doctor With Ebola in Stable Condition; Dallas Nurse Nina Pham Reunites With Her Dog Bentley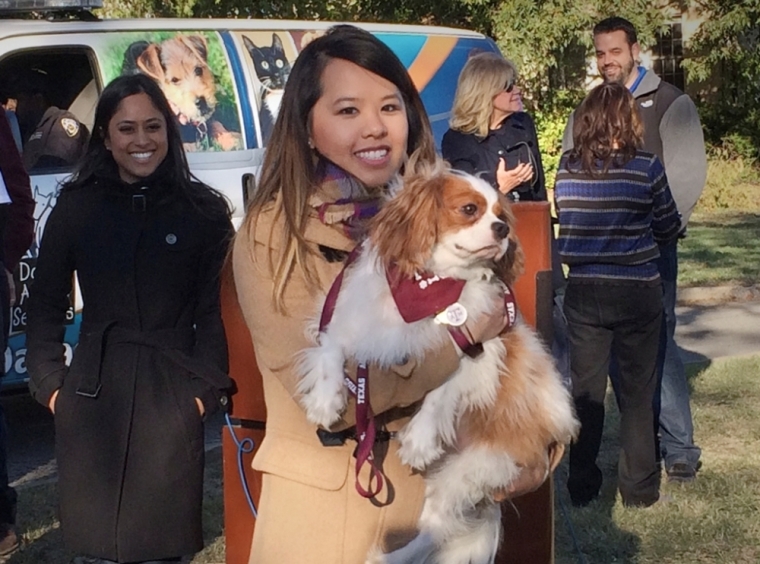 New York doctor Craig Spencer, the only person in the United States receiving treatment for Ebola, was declared to be in stable condition Saturday, while Dallas Nurse Nina Pham, who recently recovered from the disease, was reunited with her dog.
The condition of the 33-year-old doctor, Spencer, who is in an isolation unit at New York City's Bellevue hospital, has improved to "stable" from "serious but stable," according to Reuters.
Spencer tested positive for Ebola and was admitted to the hospital Oct. 23. He was treating patients in Guinea as part of his work with Doctors Without Borders when he contracted Ebola.
Spencer's case had led New York Gov. Andrew M. Cuomo and New Jersey Gov. Chris Christie to adopt a policy of mandatory quarantining of all medical workers returning from West Africa.
Pham, one of two nurses who contracted Ebola after treating Liberian national Thomas Eric Duncan, reunited with her dog, Bentley, on Saturday after the King Charles Spaniel had been quarantined for three weeks as a precaution.
"After I was diagnosed with Ebola, I didn't know what would happen to Bentley and if he would have the virus," Pham was quoted as saying at a Dallas animal shelter. "I was frightened that I might not know what happened to my best friend."
Ebola – which can cause fever, vomiting and diarrhea – spreads through contact with bodily fluids such as blood or saliva. Since it began in West Africa in March, it has taken more than 5,000 lives.
"I'd like to take a moment to thank people from all around the world who have sent their best wishes and prayers to me and Mr. Bentley," Pham added.
Pham, who was diagnosed with Ebola on Oct. 12, was released from the National Institutes of Health Clinical Center in Bethesda, Md., Oct. 24.
After being declared virus-free, the nurse said she believes in the power of prayer.
"I first and foremost would like to thank God, my family and friends. Throughout this ordeal I have put my trust in God and my medical team," Pham said at a briefing after her release.
"I believe in the power of prayer because I know so many people all over the world have been praying for me," she added. "Although I no longer have Ebola, I know that it may be a while before I have my strength back."
Duncan died at Texas Health Presbyterian Hospital last month. The Liberian national, who came to the U.S. to marry his fiancée, had not been given any experimental treatment – such as ZMapp or convalescent serum made from the blood of Ebola survivors.