National 'Be the Message Sunday' Includes Vision to Pack 10 Million Meals for Ebola-Stricken Countries
Pastors Across US Encouraged to Join in Effort to Impact the Ebola Crisis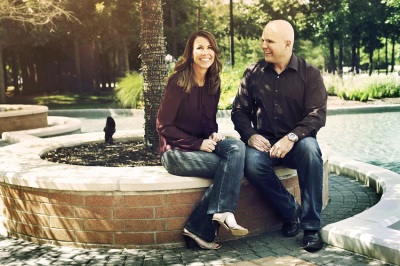 Kerry and Chris Shook, New York Times bestselling authors and pastors at Woodlands Church in Houston, Texas, are challenging church leaders across the United States to schedule a national "Be the Message Sunday," during which they will shorten their services and sermons to pack meals for people in Ebola-stricken countries.
"As we watched the death toll continue to rise in West Africa, we asked ourselves, 'What can we do to make a difference in the Ebola-affected areas?'" said Kerry Shook. "Ebola not only affects one's health, but their entire life. Thousands affected by the virus are unable to work or provide food for themselves or their families. That is why Be the Message Sunday is so important. One of the most immediate ways individuals can help is by supplying much-needed food to those living in West Africa."
A number of churches from all over the U.S. have already signed up to join the Shooks and Woodlands Church, and pastors are encouraged to announce their participation in national Be the Message Sunday on Nov. 16, organizers said. Over the coming months, the Shooks anticipate thousands of churches accepting the challenge and cutting their services short on a weekend that works for their congregation.
Woodlands Church conducted a pilot Be the Message Sunday in October and packed over 280,000 meals across its three campuses in one weekend.
"Just imagine how that number could be multiplied with churches across the U.S. participating in national Be the Message Sunday," said Chris Shook. "Our vision is to put together 10 million meals with the help of churches nationwide."
Woodlands Church will assist churches participating in national Be the Message Sunday in working with local aid groups to pack and ship food to West African countries most impacted by Ebola.
"The majority of Americans don't exactly know what it means to be truly hungry," said Woodlands Church Executive Pastor of missions Steve Helm. "The overlooked part of the Ebola crisis is that people can't work, and therefore, can't eat, and they are not always the ones infected with the disease. This is a great opportunity for churches across America to join together and participate in making a life saving difference for these people."
Churches interested in participating in national Be the Message Sunday can sign up at http://bethemessage.org/be-the-message-challenge/.
The Shooks developed national Be the Message Sunday to allow individuals to live out their faith by serving others as discussed in their new book, Be the Message, available now from WaterBrook Press. For more information, visit http://bethemessage.org.
Woodlands Church, led by Senior Pastor Kerry Shook, is a non-denominational church in the Houston, Texas, area. Founded in 1993, today Woodlands Church has multiple campuses with over 18,000 in average attendance every weekend.