New York Yankees vs Detroit Tigers Live Stream MLB: Watch Online ALCS Game 3 Playoffs (8PM ET)
The New York Yankees face a must win game against the Detroit Tigers on Tuesday night in their ALCS playoff. The Yankees find themselves coming to Detroit 0-2 behind and without their influential skipper Derek Jeter, needing to find a win to get back into the series. Game 3 of the ALCS will start at 8.07 p.m. ET and can be watched on TV on TBS, or alternatively can be watched online through live stream via one of the packages listed below.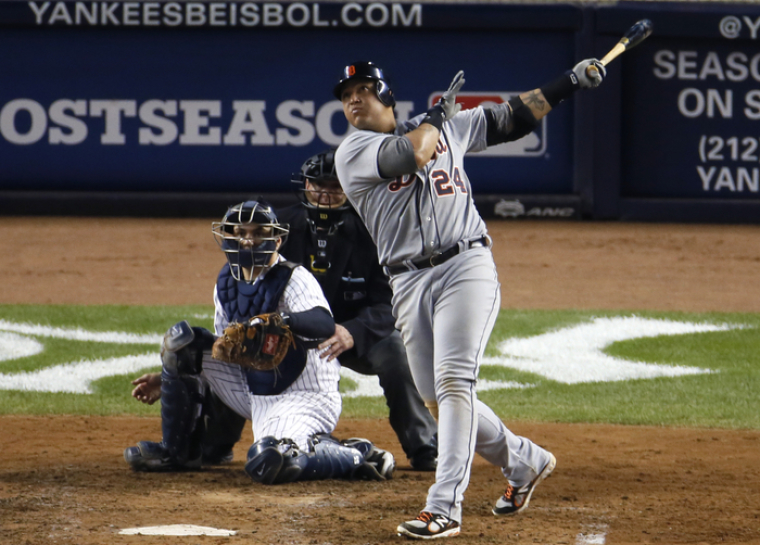 The Tigers will be sending AL MVP and Cy Young winner Justin Verlander to the mound to try and get Detroit one foot in the World Series. Verlander has been steady for the Tigers; winning both his starts against the Oakland Athletics in the ALDS, and providing the inspiration in the deciding Game 5 of the series by throwing a shutout.
Verlander faced the Yankees just two months ago at the beginning of August when he managed 14 strike outs over eight innings.
Put simply, the Yankees' offense must find some way to get some runs on the board. They have had a tough postseason, and if they cannot find their form quickly their World Series dreams will be over.
The New York offense has so far failed miserably to deal with the Tigers' pitchers. Detroit's starting rotation of Max Scherzer, Doug Fister and Anibal Sanchez has been one of the most effective in MLB postseason history; posting an ERA of 0.94 so far. According to ESPN the postseason record for a starting staff pitching at least seven games is an ERA of 1.05.
New York must try and put more pressure on the starting pitchers for the Tigers. If they can do that and get that increased pressure applied to the Detroit bullpen it could make all the difference. In Game 1 the Tigers lost a 4-0 lead in the ninth when Jose Valverde was hit for two home run doubles, appearing to crack under the pressure to see out the final inning. Although Phil Coke suffered no such anxiety in Game 2, if the Yankees can pressure them more they might be able to convert a tight loss into a win.
However, whether they can do that or not is another issue. There are simply too many Yankee players not hitting, including Robinson Cano, Alex Rodriguez, Curtis Granderson and Nick Swisher. Those four players are a combined 12 for 107 with a .112 batting average. That tells the entire story right there, and if at least a few of them do not step it up tonight New York could be kissing their World Series dream goodbye come Wednesday night.
Meanwhile, the Yankees will be hoping Phil Hughes can hold out the Tigers enough for their hitters to find themselves.
Today's Game 3 between the New York Yankees and the Detroit Tigers starts at 8.07 p.m. ET and MLB.com and TBS are both offering packages to watch the MLB Playoffs online.
On MLB.tv a postseason package is available for just $24.99, and that includes live streaming, HD quality video, in-game stats and highlights and more. Sign up by clicking here.
TBS is also offering coverage through MLB.com on "TBS Hot Corner."
MLB.com has described:
"This year's media player allows fans more interactivity as they'll be able to choose between a Backstop Cam, Pitcher Cam, Dugout Cam and Batter Cam.
"With this year's Live Game Streaming application, fans will have the option to switch between live games, interact with other fans around the country in live chat rooms and vote in live polls. An on-site reporter will bring fans live reports and exclusive interviews throughout the game as well.
"The Hot Corner also offers exclusive on-demand postseason content featuring on-field postgame reactions from players and managers, sit-down player interviews, original postseason-themed music videos featuring rock 'n' roll legends Bon Jovi and a behind-the-scenes look into players' pregame and off-day routines."