New Yorker Mag Decries Chick-fil-A's 'Creepy Pervasive Christian Traditionalism'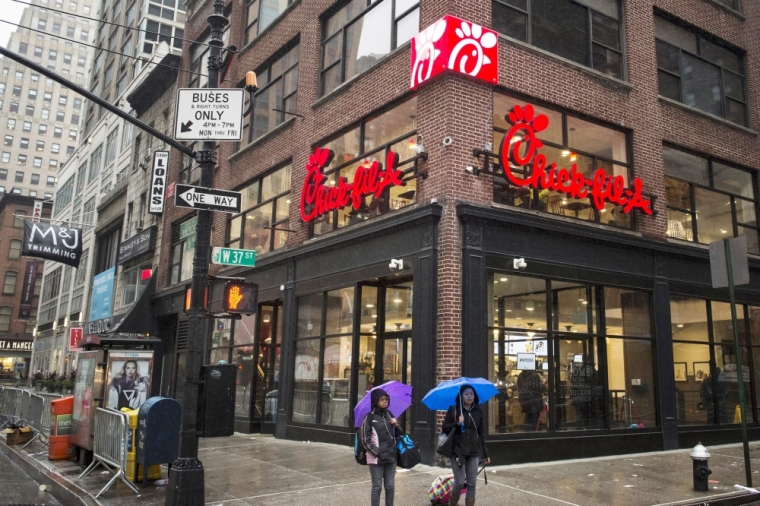 An article in The New Yorker magazine scorns the popularity of Chick-fil-A, the fast food chicken chain with Christian values, in New York City, calling it "creepy pervasive Christian traditionalism." The author says its presence is "awash with cash, Christ, and evangelizing Cows."
"The brand's arrival here feels like an infiltration, in no small part because of its pervasive Christian traditionalism," writes Dan Piepenbring, overlooking the fact that its first store opened four years ago.
The article seeks to "warn" New Yorkers that Chick-fil-A's corporate purpose "still begins with the words 'to glorify God,' and that proselytism thrums below the surface of the Fulton Street restaurant, which has the ersatz homespun ambiance of a megachurch."
"Its headquarters, in Atlanta, are adorned with Bible verses and a statue of Jesus washing a disciple's feet," the author continues. "Its C.E.O., Dan Cathy, has been accused of bigotry for using the company's charitable wing to fund anti-gay causes, including groups that oppose same-sex marriage."
These allegations surfaced around seven years ago.
Last year, Foursquare and Business Insider determined that Chick-fil-A was the No. 1 fast food chain in the nation. Even though the restaurant is closed on Sundays when most of its competitors are open, Chick-fil-A still manages to generate more revenue than its competitors, the Insider noted.
Many have speculated that the company's Christian values resonate with customers and helped it to become Americans' favorite fast-food chain.
"Those strong values resonate with a lot of people — and Chick-fil-A has a strong product, too, which doesn't hurt," Victor Fernandez, the executive director for insights at TDn2K's Black Box Intelligence unit which collects data about restaurant sales and performance, told The New York Times at the time.
Piepenbring writes that when the chain's first stand-alone New York location opened in 2015, "a throng of protesters appeared," and adds, "When a location opened in a Queens mall, in 2016, Mayor Bill de Blasio proposed a boycott. No such controversy greeted the opening of this newest outpost."
Proud of his claims in the article, the author tweeted, "I wrote about Chick-fil-A's presence in NYC: awash with cash, Christ, and evangelizing Cows."
The magazine also tweeted from its official account: "Chick-fil-A's arrival in New York City feels like an infiltration, in no small part because of its pervasive Christian traditionalism."
Such attacks notwithstanding, Chick-fil-A's popularity continues to grow. As the author also acknowledges it in his article.
"When I visited (its newest location on Fulton Street, the company's fourth in Manhattan), but from the fifth-floor terrace—on the top floor of the restaurant, which is twelve thousand square feet—I could see that the line to get inside stretched almost to the end of the block."