Chick-fil-A Kicks Out Breastfeeding Mom, Warning Men Can See Her 'Indecency,' Later Asks Forgiveness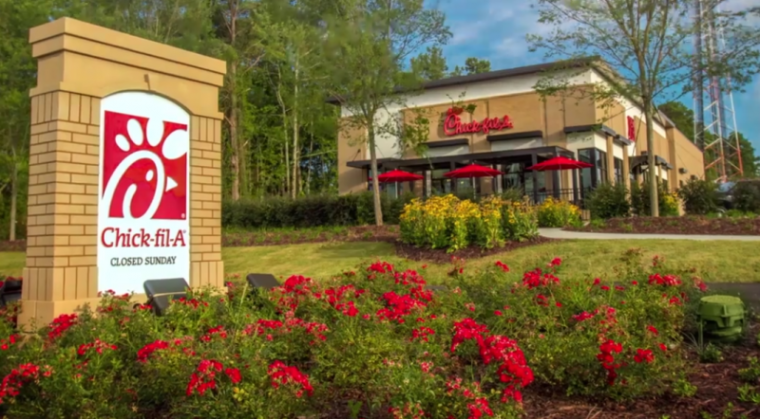 A Chick-fil-A restaurant in Fargo, North Dakota, is asking for forgiveness following a controversial decision to kick out a mother for breast-feeding her child, with the owner being accused of telling the woman that men can see her "indecency."
Macy Hornung, the mother, wrote in a Facebook message on Sunday that she was told to leave the restaurant after staff saw her breast-feeding her baby.
"The owner came to our table where I was showing no more than the upper portion of my breast, barely more than what was visible in my shirt and asked me to cover. I tried to explain that I couldn't, because my baby refuses to be covered and she started harping about the children and men who can see my indecency and I need to cover," Hornung explained.
"I said they could practice the simple art of looking away and tried to cite North Dakota breast-feeding laws. She told me if I chose not to cover, then she would have to ask me to leave, so I told her my review would reflect my experience and I would be relaying the experience in every local mommy group," she added.
Later the same day Kimberly Flamm, the owner of the store in question, posted a Facebook message of her own where she apologized for the incident.
"I would like to publicly apologize to Macy Hornung for the way I handled the situation on Saturday," Flamm wrote.
"I ask for your forgiveness on this matter as I learn from it. My goal is to provide a warm and welcoming environment for all of my guests."
The situation continues to spark debates online, with some stating that breast-feeding is not something to be done in a public restaurant.
"I personally do not want to see a mother breast-feed her child while I am trying to eat my lunch or dinner. I think she only did this to see how far she could push the envelope. I have nothing against breast-feeding but in a public restaurant is not one of them," one person wrote.
Others, such as Lindzey Dianna, pushed back.
"I'm shocked at some of the comments on here. Are people really that stupid they would get offended over a baby eating? You have 360 degrees to which you can direct your vision, if a mom feeding her child offends you so much, then avert to the remaining 359. If you're still overcome by the awful egregious site of a breast, then you can try eating in the bathroom or your car," she wrote.
Debate over breast-feeding was stirred in Christian circles last year as well, when a mother attending an Elevation Church campus in the Ballantyne neighborhood of Charlotte said that she was told to go feed her child in the ladies room, instead of the sanctuary during service.
"I just got kicked out of church for breast-feeding with a cover on and directed to the bathroom. Shame on you Elevation," mother Amanda Zilliken wrote on Facebook in August.
Elevation Church released a statement after a GoFundMe campaign began collecting money online to help Zilliken file a lawsuit.
"We do not have a policy that nursing mothers can't be in the sanctuary," the statement clarified.
"A volunteer had a conversation and felt both parties arrived at the same conclusion to exit mutually. We are sorry that this in any way offended anyone. We welcome everyone and anyone to attend Elevation Church."