New York Chick-fil-A Stores Bustling With Business Despite Mayor De Blasio's Boycott Call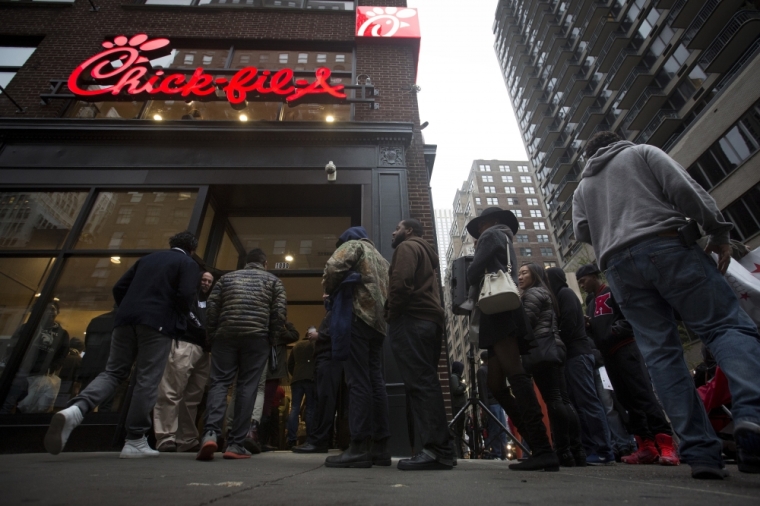 When it comes to swaying New Yorkers to boycott Chick-fil-A restaurants within the city because of the company's Christian-owners' stance on homosexuality and gay marriage, it appears that Mayor Bill de Blasio's goose is cooked.
Despite the mayor urging New Yorkers to avoid Chick-fil-A restaurants in the city last week, the popular fast-food chain's two Manhattan locations are bustling with business and are seeing long lines that snake around the block, reports FoxNews Insider.
The Christian-owned chicken chain has been so successful in the Empire State that it plans to open 12 new locations over the next year.
Recent efforts by de Blasio and Councilman Danny Dromm to hamper the company's business with a boycott failed miserably after the two men condemned the chain because its President, Dan Cathy, supports traditional marriage.
Dromm also made outlandish claims that Chick-fil-A's policies prohibit employees and volunteers from "same-sex love."
A majority of the restaurant's New York patrons, however, appear to be undeterred in their support.
In response to the recent controversy, Chick-fil-A issued a statement: "The Chick-fil-A culture and service tradition in our restaurants is to treat every person with honor, dignity and respect — regardless of their beliefs, race, creed, sexual orientation or gender. We are a restaurant company comprised of 80,000 individuals who represent different backgrounds and beliefs, and we are all focused on offering great food, service and hospitality."
De Blasio spoke out about his distaste for the chicken chain during an unrelated press conference last week, urging New Yorkers not to support the restaurant.
"What the ownership of Chick-fil-A has said is wrong," de Blasio asserted. "I'm certainly not going to patronize them and I wouldn't urge any other New Yorker to patronize them."
The comments to which de Blasio referred were made by Cathy in 2012 in which he affirmed the company's stance in supporting traditional marriage.
Saying that he was "guilty as charged" in his support of traditional marriage, Cathy added, "We know that it might not be popular with everyone, but thank the Lord, we live in a country where we can share our values and operate on biblical principles," according to Forbes.