New York's Homeless Outraged After Chinese Millionaire Promises $300, Gives Only Lunch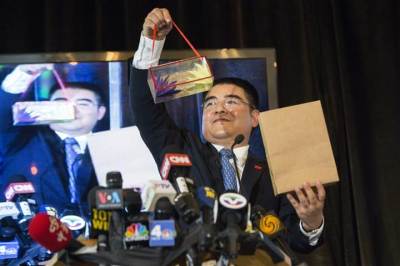 New York's homeless are outraged after a Chinese millionaire promised to provide them each with a fancy lunch in Central Park and $300 each, only to find that they would not be receiving the cash prize.
Chen Guangbiao, a Chinese recycling entrepreneur, organized Wednesday's lunch with the New York City Rescue Mission to provide a three-course meal to 250 homeless people at The Loeb Central Park Boathouse restaurant. Chen had taken out advertisements last week in U.S. newspapers, advertising the unique charity event that promised lunch, along with a $300 cash gift for each attendee.
Chinese and Americans reporters crowded around the Boathouse restaurant on Wednesday to observe the 250 homeless people dining on a three-course meal that was served by suited waiters and included filet mignon, tuna and fruit. Chen also performed magic tricks for the crowd and sang a rendition of "We Are the World," a charity song originally composed in 1985.
Although the attendees appeared to enjoy the meal, the event grew tense when Chen did not pass out the $300 each that he had promised he would. According to multiple media outlets, Chen chose not to pass out the money after concerns by homeless advocates and local police were raised, as many of the people attending the event struggled with drug abuse. Instead, Chen donated $90,000 to the New York City Rescue Mission.
"Our thought was if someone wants to treat them to an amazing event – something they would never experience on their own, maybe even a kernel of hope that life could be different again, we're in for that reason. That's our motive," Craig Mayes, the Mission's executive director, told NBC News.
Although many appeared to enjoy Wednesday's event, one attendee named Ernest St. Pierre reportedly told AFP: "Don't lie to the people … We came here for $300 but now he's changed his tune."
Chen, who is worth a reported $750 million, has been described as eccentric for his philanthropic antics in China. He once passed out containers of "fresh air" on a street corner in Beijing to protest air pollution, and another time he tried to buy The New York Times, only to be told it was not for sale.
Not all are pleased with Chen's eccentric personality. After the millionaire's fumbled charity event on Wednesday, some people denounced Chen's antics on Sina Weibo, China's version of Twitter.
"He's an embarrassment and he has now proved it overseas," one poster wrote, according to the AFP. "Would you die if you stopped creating hype? The central government please rush to take him back and put him into a madhouse."
Chen has said that he wanted to hold the charity event in the U.S. to show that Chinese millionaires can also be charitable. "The important thing to me is not the money I'm donating, but to have people take notice of the plight of poor people," the millionaire told the New York Post ahead of Wednesday's event. "This, for me, is a journey of gratitude, not a journey of charity."