New YouVersion App 'Bible Lens' Gets Over 265,000 Installs in 3 Days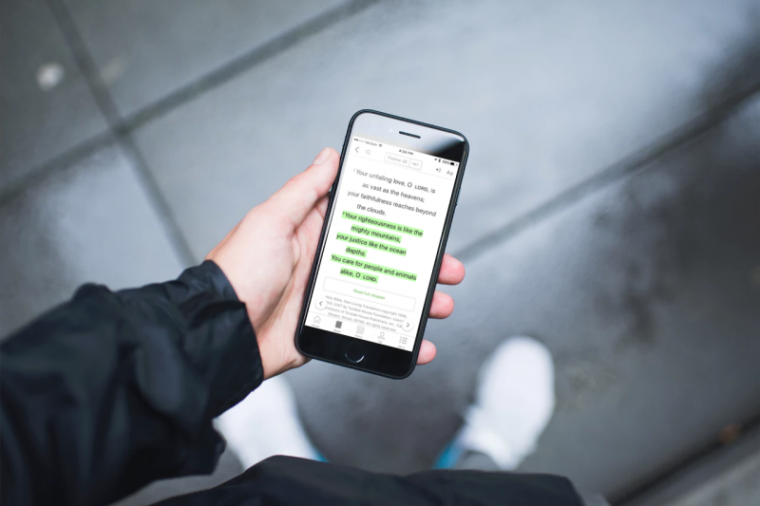 A new free app from the people behind YouVersion Bible App has gotten more than 265,000 installations in less than three days, making it the second most installed app.
Known as the Bible Lens, the free app was launched last Friday. By Sunday evening, Bible Lens was number two on the most installed apps, second only to YouTube: Watch, Listen, Stream and ahead of free apps like Messenger, Snapchat, and Instagram.
The Bible Lens app takes relevant Bible verses and matches them with a person's photos, creating visually appealing, sharable artwork, the creators say.
Bobby Gruenewald, founder of YouVersion and a pastor at Life.Church, said in a statement that while "technologies emerge and create new possibilities, it's important to us that the Bible be at the forefront of innovation."
"We believe Bible Lens will make it easier for people to see connections between the Bible and their everyday lives, and we're encouraged by the number of people who have shown an interest in engaging with the Bible in this way," stated Gruenewald.
The launch of Bible Lens comes weeks after YouVersion celebrated its 10th anniversary, having been launched on July 10, 2008.
Over the course of 10 years, YouVersion boasts of having been downloaded globally on over 330 million devices, with 70 billion chapters of the Bible read, 12 billion audio chapters listened to, and 2.4 billion Bible plan days completed.
"We never could have predicted the results we've seen as millions of people around the world have read, listened to, shared, and interacted with the Bible and each other in new ways," stated Gruenewald last month.
"Early on, we discovered that proximity helped us engage with the Bible. As soon as I had access to the Bible on the phone that's always in my pocket, my connection to it naturally became more frequent."
The app has seen major growth. In 2008, it offered 15 versions of the Bible and in only two languages. Through its partnerships with Bible societies, it now has over 1,700 different versions of the Bible in over 1,200 languages.
The popular app has stayed up to date with smartphone innovations and has introduced new ways for the Bible to reach people in their everyday lives, such as through verse of the day notifications, reading reminders, reading streaks, and more features aimed at encouraging Bible reading.