250 Million Downloads of YouVersion Bible App Later: 'Never Could Have Imagined'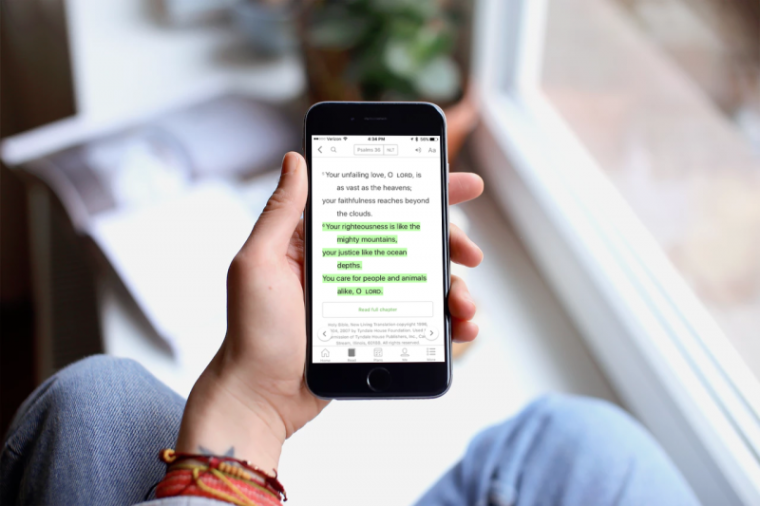 The popular YouVersion Bible App for phones has reached a new download milestone, surpassing a quarter of a billion downloads.
Created in 2008 as one of the 200 apps available in the iPhone app store, the YouVersion Bible App reached the 250 million download mark on Monday.
In comments emailed to The Christian Post, Bobby Gruenewald, Life.Church innovation pastor and YouVersion founder, said he "never could have imagined how many people would come to rely on it every day, all around the world."
"God has done far more through the Bible App than we could have asked or imagined, especially in bringing forth a diverse group of people and organizations to rally around a common mission," said Gruenewald.
"Translators, publishers, Bible societies, churches, authors, and hundreds of volunteers have come together as a massive coalition all with one purpose: to help people fully engage in the Bible."
Originally launched in 2007 as part of the Life.Church website, the YouVersion Bible App includes nearly 1,500 versions of the Bible in more than 1,000 languages.
Within five years, the YouVersion app was downloaded 100 million times. Last December, YouVersion hit the 200 million download milestone.
"We never anticipated when we started that we'd ever, ever be talking about 200 million devices that have installed the Bible app," said Gruenewald to CP in December of 2015.
"Obviously God had different plans and our faith has really grown over time to now where we think much, much more is possible."
Regarding recent developments with the app, Gruenewald explained to CP on Tuesday that one new feature is "an iMessage extension and Bible keyboard that allows people to search for and share Bible verses and verse images from a wide array of apps."
"We've also added the ability to compare different Bible versions of the same verse at a glance. Another new feature is a Netflix-like display format for Bible Plans, which makes them easier to search and discover," explained Gruenewald.
"All of these additions have contributed to an increase in engagement, including verses shared, chapters read, and Bible Plans completed. We also added regional language lists, which allow us to more intelligently suggest a list of Bible languages to people based on where they are located."