YouVersion Bible App Reveals Most Read Bible Verse of 2017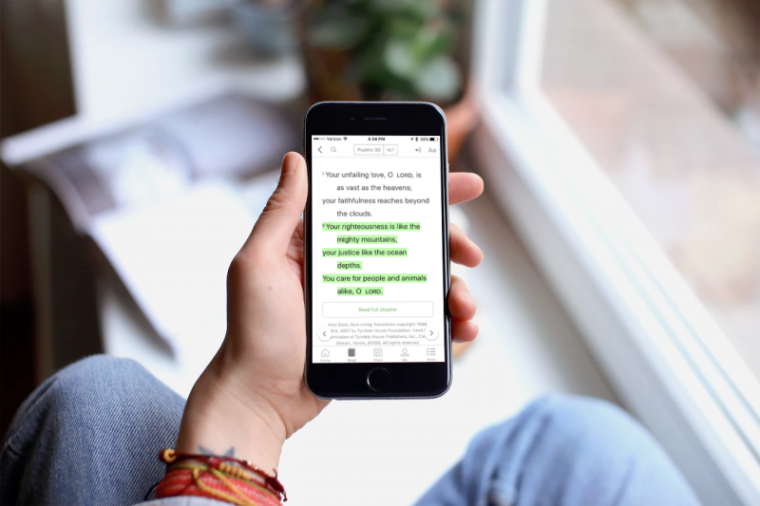 In 2017, more people than ever read, listened, reflected and shared the Word of God, according to the popular YouVersion Bible App. But what was this year's most popular scripture passage?
The Bible verse that was shared, bookmarked and highlighted most often by the global Bible App community during 2017 is Joshua 1:9, which reads, "This is my command — be strong and courageous! Do not be afraid or discouraged. For the Lord your God is with you wherever you go."
However, the report says that in the United States, this year's most popular verse was Romans 8:28: "And we know that in all things, God works for the good of those who love Him, who have been called according to His purpose."
Created in 2008 as one of the 200 apps available in the iPhone app store, the YouVersion Bible App has now reached the 295 million download mark.
On average, 1.4 people installed the app and 10.8 verses were shared each second of every day in 2017.
"We believe the Bible is an enduring source of courage and strength," YouVersion founder and Life.Church Pastor Bobby Gruenewald said in a statement to Faithwire. "We are encouraged to see from this year's data that people all over the world are finding hope in God's Word."
He added, "In recent years, technology has made it possible to accelerate Bible translation like never before. There's incredible momentum around this effort that we know won't stop until every person has Scripture available in their heart language."
An app user, identified as Vinod P. from the state of Bihar in India, was quoted as saying, "The availability of different versions made my Bible study deeper, and I have now read the entire Bible many times. I consider reading the whole Bible one of the most significant achievements of my life. The Bible App made it possible."
However, more than a billion people still don't have the Bible in their language, according to YouVersion, which says it is working to get the New Testament translated for 99.9 percent of the world's population by the year 2033.
Earlier this year, the app added a Virtual Reality function to allow for a more interactive and immersive Bible study. Life.Church, creator of YouVersion, worked with film production company The Octagon Project to create the feature.
"Thanks to this partnership with The Octagon Project, the YouVersion community can experience the same steps Jesus took in Jerusalem," Bobby Gruenewald, Life.Church Innovation Pastor and founder of the YouVersion Bible App, said at the time. "We're thrilled to leverage technology like virtual reality to help people become more immersed in Scripture."
Last year, Gruenewald told The Christian Post that he "never could have imagined how many people would come to rely on it every day, all around the world."
"God has done far more through the Bible App than we could have asked or imagined, especially in bringing forth a diverse group of people and organizations to rally around a common mission," he said. "Translators, publishers, Bible societies, churches, authors, and hundreds of volunteers have come together as a massive coalition all with one purpose: to help people fully engage in the Bible."