Newsboys 'Restart' With Drummer Duncan Phillips – 'Christian Music Should Be Better' (INTERVIEW)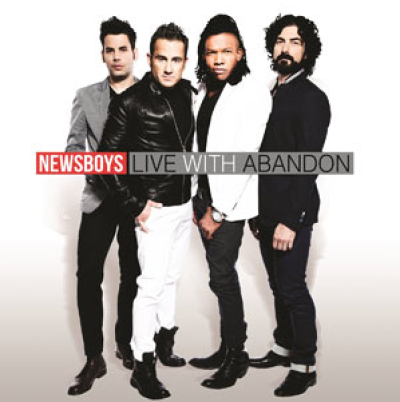 As legendary and pioneering Christian band the Newsboys get ready to release their 17th album, Restart, tomorrow, the Christian Post had the opportunity to speak with longtime drummer Duncan Phillips on the messages of the album, why Christian music as a whole is lacking, and why Restart is the best Newsboys album ever made.
Christian Post: The new album Restart has been quoted by the band as "taking music one step further." How is that?
Duncan Phillips: I think on this one in particular we really wanted to go outside of our box because I think ... we kind of felt that Christian music is really the only type of music that is sort of gauged on its lyrical content rather than the art of the music. This is fine, but unfortunately the downside is I think music is kind of second fiddle for the lyrics – I really believe that the art itself has suffered. It's second rank, and that's one of the complaints we hear from a lot of people. The music art just isn't there, and I would have to agree with them about that.
This one [album] we kind of went on purpose and said, look if that's the complaint that people who listen to CCM and Newsboys [have], let's have a genuine look at this and see what we can do about it. So we chased the best producers we possibly could and we chased the best songwriters we possibly could. I know we've had a lot of success with our own songs over the years but we thought, "let's just get the best." Let's see what we can do if we get some world class songwriters to collaborate on this project. I really believe we got a superior product. I can unequivocally say, that it's the best Newsboys record we've ever penned and recorded.
CP: What are some of the themes and messages that you are trying to convey on Restart?
DP: There is a theme throughout the record of, God chooses his people to do His will, and we aren't going to be able to hide in our subculture. We are not going to affect the world hiding in a cave and waiting for God to return. ... He chooses to use you and me, and maybe it's for our betterment but the fact that he does, [telling] me we have to reengage with the culture.
The culture over the last 50 years has degraded to a point where we have a 20-year-old girl at the VMAs strutting around basically naked ... This generation has lost its heroes and people to look up to. As a band we want to reengage our culture and have a real positive effect. ... I think it's time that we jumped in not to be apart of it, knowing who we are and having courage to do the great commission.
CP: Why do you think music is a powerful tool for the gospel?
DP: I think the thing with music, it can bypass you in your conscience and affects someone right down into their soul and being. I'm a drummer and rhythms and grooves really get me going. A lot of times I don't even know what a certain song is singing about. One time someone asked, 'What's your 10 favorite songs,' and then someone in the band said, 'Have you ever heard the lyrics on that song?' and I'm like 'No, I love the drums on that song.' Then when I actually read the lyrics ... I cannot believe I've been singing this song in my brain the whole time, and that's what the lyrics have been. That proved my point, that a lot of the time the art of the music is such a powerful force that it can actually bypass the conscience. Through the medium of music God does wonderful and mighty things and I really believe God has done that in the past.
CP: Why have the Newsboys been able to last so long -- from 1985 to the present?
DP: We've always been very proud of who we are as a band, and very proud about not being a Christian version of someone else. That's one of the major complaints of CCM in general, you know whatever is happening at the time, two or three years later, stylistically the Christian music industry will kind of do their Christian version of it. I believe Christian music should be better. We shouldn't be copying one another, and this album (Restart), that is what we did. I'm incredibly proud of this record. I think it's going change the face of our fans, but hopefully changes the face of CCM in general.
CP: Stylistically the Newsboys have covered many different genres of music as the decades have passed. Do you think it's because of the different lead singers or just how Christian music has evolved over the years?
DP: I think it's everything. Every record is like applying for your job over. Every record is an opportunity to say, 'Hey, here we are. We hope you like this rendition.' With the change over to Michael (Tait) in 2009, that gave us this incredible opportunity to try something musically that we hadn't done before, and it's a risk, and it's scary, but I think any band that stands the test of time has been through any one or two restarts.
If you keep making the same record, you are going backwards I believe. Getting a new lead singer is a stretch, going from a bald white guy to a black guy with hair, that's a massive monumental change in the band. Michael is such a world class talent, that he really allowed the band to go forward and to kind of do a record like Restart.
CP: Michael was no slouch either. His former group DC Talk was very popular.
DP: DC Talk was kind of a band that revolutionized Christian music at the time. There was nothing like DC Talk at the time. I remember it, there was just this massive moment of, 'Oh my gosh, where did these guys come from?' They really raised the standard of what Christian music had been up to that point and time. And I really believe with Michael ... the Newsboys have done that again.
CP: The new single is "Live With Abandon." What have the reactions been like so far?
DP: It's amazing. I was talking to Michael this morning. He said the feeling on this record is how he felt when Jesus Freak hit. He knew with Jesus Freak that he had something amazing, but they weren't quite sure what. But he has that very same feeling, that sense of anticipation and so far the reaction has been amazing. I think people are really genuinely blown away. We want to give a product that kids are proud of, and I don't want them to hide their Christian music. Something they'll only listen to when no one else is in the dorm room. I want it to stand up stylistically, and as far as the art side of it goes, against anything out there, and I think it does. I'm incredibly proud of it, and once this kind of gets into the airwaves and people get the record, it'll be something that they can use as a tool.
The Newsboys have been a band since 1985 and released their first album, Read All About It, in 1988. They became a major Christian band in the early to mid-90s with their albums Going Public and Take Me to Your Leader. They are perhaps most know for their hit singles "Not Ashamed," "Shine," "Breakfast," "God's Not Dead," and many more. They have five Dove Awards and have been nominated for a Grammy four times.