Nexus 5X and Nexus 6P Release Date News: Unveiling to Take Place at Google's Sept. 29 Event
Google's upcoming smartphones, the Nexus 5X and the Nexus 6P, are expected to be unveiled during the company's special event near the end of the month.
Google recently issued press invitations last Friday for a special event on September 29 where it has confirmed it will launch its two new smartphones, the Nexus 5X (formerly LG Nexus 5) and the Nexus 6P (formerly Huawei Nexus 6).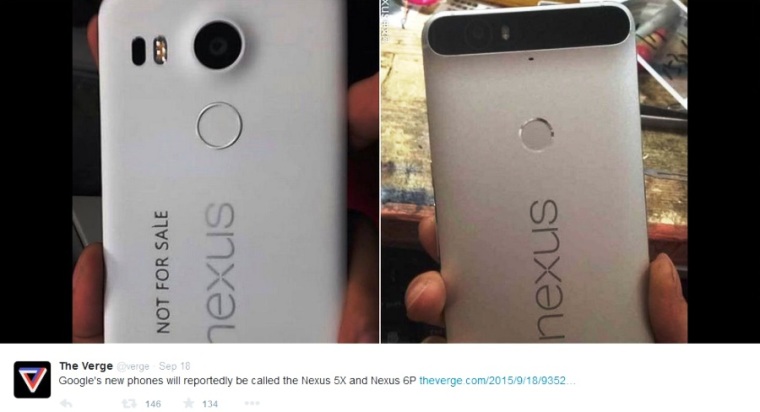 The US search engine giant also hinted the event will also see the unveiling of its latest operating system, the Android 6.0 Marshmallow, which will reportedly be running on the Nexus 5X and the Nexus 6P when both handsets are uncovered a week from today.
"Join us for some tasty new treats and much s'mores," Google's invitation reads, using the word "s'mores" as a direct reference for the Marshmallow OS.
The Nexus 5X handset, manufactured by South Korean tech giant LG on its second turn with a Google Nexus device, will have a 5.2-inch full HD P-OLED display and carry an octa-core Snapdragon 620 SoC supported by 4GB of RAM, and 32GB to up to 64GB of internal memory.
Featuring a 13MP rear camera with laser autofocus, it will be fronted by a 5MP selfie snapper, and have dual front-facing speaker grilles, as well as a matte plastic fingerprint scanner at its rear. Powered by a 3,180 mAh battery, it is rumored to be priced at $399.
The Nexus 6P, with "P" representing "phablet," will have a 5.7-inch QHD display. Powered by an octa-core Qualcomm Snapdragon chipset, it will carry 3GB of RAM, and several variants of internal storage ranging from 32GB, 64GB, and 128GB.
Featuring a fingerprint scanner below its camera, the Huawei-manufactured smartphone will also carry a dual stereo speaker, a USB Type C port, and a $600 price tag.
Both devices are expected to ship on October 13, two weeks after their unveiling in Google's event in San Francisco, which will be live streamed on Google's YouTube account starting 9am.