NFL Saints Player Rescues Man Trapped in Car Crash After Church: 'I Prayed With Him' (Video)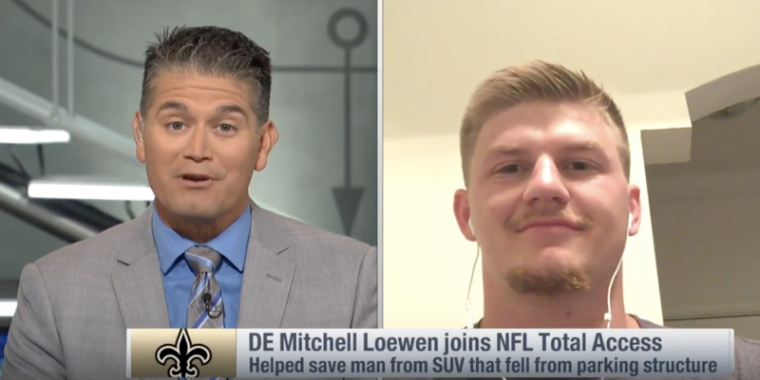 New Orleans Saints defensive lineman Mitchell Loewen is being hailed a hero after he prayed and rescued a man pinned inside of a vehicle due to a bizarre accident.
According to Times-Picayune, Loewen was out to brunch with his wife and 2-year-old son after church on Sunday in New Orleans' Central Business District. Suddenly his family date was interrupted when he heard what sounded like an explosion.
The noise was the sound of a crash after a young driver in his mid-20s accidentally drove his silver Mercedes Benz SUV off the fourth floor of a parking garage. The unidentified driver was stuck inside of the car, which landed on its roof in the middle of an active street.
"People were screaming, it sounded like a bomb or an earthquake or something," Loewen told Times-Picayune on Monday.
After seeing the vehicle, Loewen said he had to do something to help.
"There were a bunch of people standing around, but not approaching the car and I was like 'What's up, let's help this guy,'" Loewen described. "I mean, obviously there was someone in there, I wasn't going to just stand by and watch. It was a life or death situation."
The young athlete gave more details during a live interview on the NFL Network's "Total Access," stating that 10 people joined in and helped.
"We knew we had to get to him somehow, so one man crawled through the windshield that had broken and he unlatched the door from the inside and I pried the door open," Loewen told "Total Access.".
"He didn't say much, he was just thanking us all. I hugged him and told him he was going to be ok, and then I prayed with him," the 25-year-old shared with Times-Picayune. "I couldn't tell how bad his injuries were, but there was a lot of blood and broken glass."
Loewen believes it was "an act of God" that he happened to be in the right place at the right time.
"There's definitely a reason his life got saved," Loewen maintained. "It's unreal."
New Orleans Police Department spokesman Aaron Looney released a statement Monday saying the unnamed driver is expected to recover from his injuries.