Tim Tebow Says He's 'Blessed' With New Girlfriend, Former Miss Universe Demi-Leigh Nel-Peters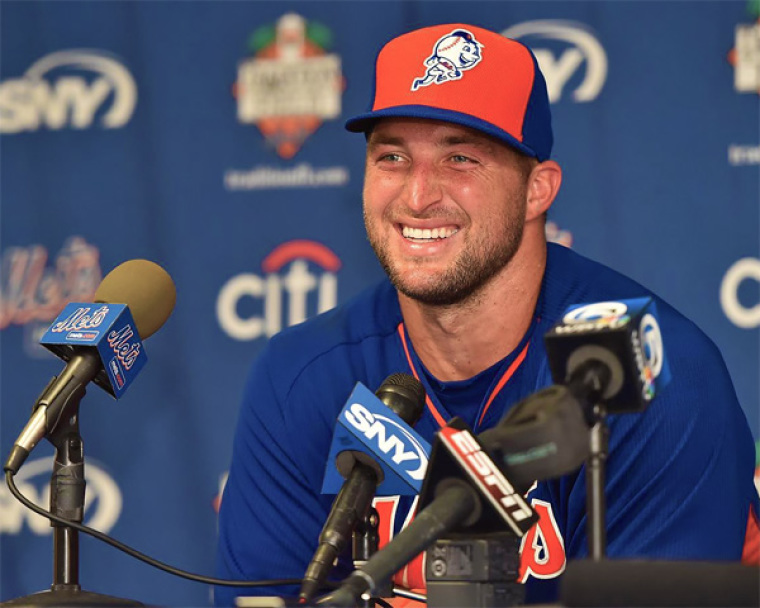 Former NFL quarterback-turned-Minor League Baseball player Tim Tebow has confirmed that he's dating 2017 Miss Universe winner, Demi-Leigh Nel-Peters.
Tebow's sister, Katie Tebow, posted a photo on Instagram last week of the athlete posing with Nel-Peters in a family photo. The intimate photo prompted reporters to ask Tebow about the relationship.
"She is a really special girl and I am very lucky and blessed for her coming into my life," Tebow told ESPN. "I am usually very private with these things but I am very thankful."
Nel-Peters, who is from South Africa, won the Miss Universe crown in November 2017.
During the competition, she made clear that her passion was to empower women. Since winning the crown she has developed a program that helps train women in self-defense called the Unbreakable campaign. The 23-year-old was inspired to launch the campaign after being the victim of an attempted hijacking earlier this year in Johannesburg.
Like Tebow, whose foundation helps people living with disabilities, Nel-Peters has said that her biggest motivation comes from her half-sister who has a disability.
"My half-sister was born without a cerebellum and is completely disabled. She is my biggest motivator and inspiration, because her situation makes me realize how special life is and I always want to work twice as hard, enjoy life twice as much so that I can enjoy it for her as well. Therefore each experience I encounter is that much more special," said, according to the Miss Universe page.
Tebow told People magazine last spring that he was ready to start a family but had not found the right woman to marry and start a life with. In his list of requirements, he said he was looking for a person with a "good heart" who has a relationship with God.
There is no public mention of Nel-Peters' religious background. Her Instagram page, however, shows the humanitarian work the pageant star has done with nonprofit in New York called God's Love. However, God's Love says they are a non-sectarian organization.
According to People, the South African native currently resides in New York City. She has a bachelor's degree in business management from North-West University in South Africa and speaks English and Afrikaans.
Follow Jeannie Law on Twitter:
@jlawcp