Nicki Minaj Death Threats: Rapper Slammed for Mitt Romney Endorsement
Nicki Minaj has reportedly been receiving death threats over her political endorsement of Republican Presidential hopeful Mitt Romney, according to reports.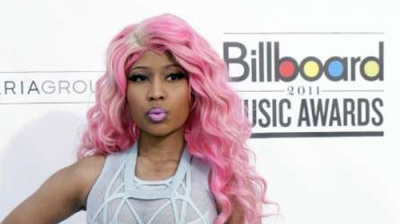 The renowned rapper stunned her predominately African-American fan base recently when she appeared to slam President Barack Obama as being "lazy" in Lil' Wayne's song "Mercy (Remix)."
"I'm a Republican voting for Mitt Romney, you lazy b------ is f------ up the economy," Minaj rapped in the controversial song.
Her lyrics sparked outrage among her fans because over 90 percent of African-American voters voted for Obama in 2008 and the vast majority still support the President, according to CNN.com polls.
Many flocked to social networking site Twitter where they posted a series of disturbing tweets about ending Minaj's life over the song.
"Somebody plz kill Nicki Minaj," one user tweeted.
"SOMEONE KILL NICKI MINAJ EVEN GAGA LAUGH AT HER NOW SHE DESERVES TO DIE ," another outraged follower wrote.
"I wish Nicki Minaj would die in a fire," another user tweeted.
While an overwhelming number of Minaj's Twitter followers expressed disappointment in her political leaning, others did not understand the backlash.
"Haha. Team Nicki! I Love Mitt Romney too. I, like Nicki, worked hard for my wealth and refuse to let Obama dictate who I share it with!" Paul Brown tweeted.
"I don't know why people are making a big deal about Nicki Minaj endorsing Mitt Romney. Who cares? Eman tweeted.
The "Starships" singer's support of Romney has sparked fears of a boycott, with a growing number of fans threatening to boycott her music, although she appeared to be unfazed by the backlash at Thursday night's MTV VMA awards.
Minaj's "Starships" song won a moon man award for Best Female Video, and the singer took to Twitter to thank her fans.
"OMG MTV!!! Thnku!" she tweeted, later writing "Barbz I'm cryin in my dressin room!"
Nicki Minaj Receiving Death Threats On Twitter Over Romney