Nicki Minaj, Mariah Carey Fans Feud After 'American Idol' Spat Appears in Video
Nicki Minaj and Mariah Carey engaged in a heated argument while serving as judges on "American Idol" recently, and once their fans caught onto the video, the conflict began to spread among them.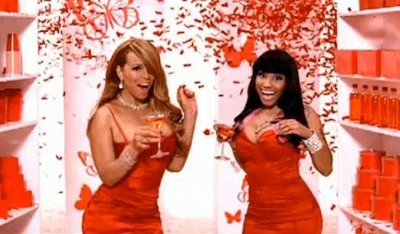 Minaj, 29-year-old rapper, has a base of fans that she refers to as "barbz", while 42-year-old Carey has supporters that she refers to as "lambs". The two groups of fans began to engage in an altercation over their computer screens after they caught wind of Minaj berating Carey on the set of "American Idol."
One Carey fan went in depth about their reasoning for believing that Minaj had taken things too far.
"So yes when someone comes along that has mediocre at best vocals and tries to disrespect her ON A SINGING competition of all things make sure you have the FACTS to validate your status and influence in the music biz and also to tell your fans TO SIT DOWN! You will NEVER BE MC, (SIC)" the fan exclaimed in an elongated Twitter rant. "I've been against Nicki being on the show cuz of her rude and obnoxious attitude and I personally don't believe she should judge ANYONE THAT CAN SING! #PERIOD! So Nicki plz sit down and bow to the QUEEN MARIAH CAREY – You MIGHT learn something from her. #LambL4L."
Another "lamb" pointed out that Carey's fans have been around longer than Minaj's "barbz."
"But the thing is us Lambs have been around since (1991), Nicki's barbz have been around since what 2009," the fan questioned.
However, Minaj's fans were quick to defend the rapper and new "American Idol" judge on the social networking website.
"So because Mariah Carey is characterized as a 'legend' this gives her the right to disrespect other artists," one Minaj fan questioned on Twitter.
However, other fans of Minaj decided to take things one step further and create a Facebook page to petition against Carey. The page, titled "Remove Mariah Carey from 'American Idol'" questioned Carey's credentials that brought her to the singing competition despite her five Grammy awards,17 World Music awards, 11 American Music awards and 31 Billboard awards.
"Not only does Mariah Carey lack the credentials and talent to actually judge singing – her poor image is a disgrace to the entertainment industry," the description on the Facebook page reads. "She should not have the privilege of sharing the table with highly respected and established artists like Nicki Minaj, Keith Urban and Randy Jackson."
While a rumored feud between the two entertainers has been making headlines for weeks, TMZ released an official video where fans could see the two women engaged in a verbal altercation. In the video, Minaj could be seen yelling at Carey.
"You think I'm playing...Think it's a joke?? Say one more disrespectful thing to me – say one more disrespectful thing to me," Minaj told Carey in an enraged tone. "Don't tell me I'm inadequate. Maybe you're inadequate, you're insecure running down your resume every five minutes. Every time you take a shot at me, Imma (sic) take it back and if you've got a (expletive) problem, handle it."
Minaj could be seen on the video exclaiming "why" and reportedly also had her own words for the rapper.
"Oh why, why, why do I have a three-year-old sitting around me," Carey questioned. "I couldn't see my kids because you decided to have a little baby fit and go all around the stage."
The rapper turned judge was reportedly ready to dismiss the singer at that point.
"Good! Go," Minaj reportedly fired back. "Go see them now, go. You're boring as (expletive)."
Fans will be able to watch both Minaj and Carey sharing a judge's table when the 12th season of "American Idol" premieres in January.
Nicki Minaj and Mariah Carey Fighting on American Idol (WARNING LANGUAGE)