'American Idol' Nicki Minaj, Mariah Carey Fight Caught on Tape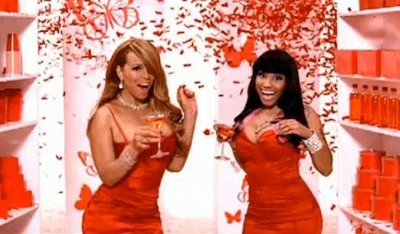 Nicki Minaj recently lashed out at her fellow "American Idol" judge Mariah Carey and threatened to harm her during a dispute, and the shocking incident has been caught on tape.
Minaj, real name Onika Tanya Maraj, reportedly became enraged at Carey, 42, over jabs that were allegedly made while filming for the show in Charlotte, North Carolina on Tuesday. Sources claim that Carey repeatedly disrespected Minaj, 29, while filming which prompted the rapper to fly off the handle.
"I told them I'm not ------- putting up with her ------- highness over there! ...Figure it out!" Minaj is heard ranting on the video, which has since gone viral.
In one of the most vicious and awkward incidents on the singing reality TV show, Minaj reportedly stormed off set during her heated confrontation with Carey following an alleged dispute over a contestant's performance. Their fellow panelists Keith Urban and Randy Jackson appeared stunned as they nervously watched on.
"Nicki Minaj walked off of set because Mariah Carey kept making jabs at her," a source reportedly told Mouthtoears.com. Adding "Nicki's manager and team convinced her to come back to the show. Mariah kept at it and called Nicki "a -----" and then proceeded to cuss her out. Producers had to stop filming and call it a night,"
Carey, who was reportedly furious in August after learning that Minaj was joining her on the judges panel, is also heard responding to the verbal abuse although it is unclear what exactly the Grammy award winning singer is saying.
"[Nicki said to Mariah] 'I'm gonna knock you out' although this was not caught on tape," " a source reportedly told TMZ.com.
Carey allegedly hung up the phone in a rage after she was told that Minaj had been selected to join her as an "American Idol" judge. The news allegedly upset Carey because she was told that she would be the only woman on the judge's panel, according to TMZ.
Although the pair recently denied reports of a feud, it has still been maintained by some sources that there may have indeed been some truth to reports that they have been clashing on set.
"Nicki isn't established enough to qualify as a judge. Mariah wants a panel of bright, inspirational and constructive judges. Not some freak show!" a source reportedly told Hollywoodlife.
"Mariah thinks Nicki will just be a distraction and it will all be about her and her outrageous behavior. Mariah will not be happy if Nicki joins the panel and she has let the producers know just how she feels!" the source went on.
Nicki Minaj and Mariah Carey Fighting on American Idol (WARNING LANGUAGE)