Nicki Minaj Prays for Tasha Cobbs' Marriage, Ministry in 'Jesus Mighty Name'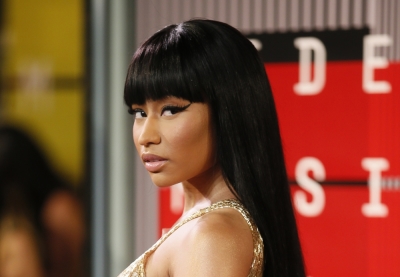 Nicki Minaj publicly prayed in Jesus' name for newlywed gospel singer Tasha Cobbs, asking God to bless her ministry.
Cobbs, now Tasha Cobbs Leonard, married musical director and producer Kenneth Leonard earlier this month. Minaj, the mainstream rapper who was born Onika Maraj, decided to bless the gospel singer and her nuptials with a prayer.
"Now God, we claim a super natural, double portion blessing over Tasha's marriage, family, health & MUSIC this year. Expand her borders that MILLIONS MORE would be blessed by her MINISTRY of song," the rapper wrote on Instagram. "Cause her GIFTS to shine brighter than they've ever shined before! Bless ALL the CALLED, CHOSEN FEW who have devoted their gift of SONG to GOSPEL MUSIC. Go before her & make every crooked path straight!"
The "No Frauds" rapper concluded the prayer, "In Jesus MIGHTY name. #AMEN."
While some might be confused about the rapper's decision to pray for the gospel singer, Minaj explained her appreciation for Cobbs Leonard.
"I love that she ministers while singing similar to #JuanitaBynum #donnieMcclurkin. Discovered her on BET 2 years ago and have been obsessed ever since," she revealed. "#FunFact: I listen to old dancehall and gospel more than all other genres on my personal time. Lol. Go figure."
She went on to encourage over 77 million Instagram followers to listen to the gospel singer's music by writing, "..I'm listening on #Tidal follow her & listen to her music. Thank me later."
Earlier this month, Minaj surpassed Aretha Franklin as the female artist with the most Billboard Hot 100 hits — an honor held by the legendary singer for over 40 years. Even with her mainstream success, Minaj has been vocal about identifying as a Christian for some time.
In a previous interview with The Christian Post, her mother Carol Maraj spoke about instilling those values in her daughter.
"My life as a Christian and believer was opened to Onika. As her career continued to thrive, she developed more concerns about life," Carol previously told The Christian Post. "She knew I believed in the power of prayer, therefore, she constantly called me and our pastor, to pray for different concerns she may have ... I believe by her acknowledging the power of prayer, and her strong desire to tithe together with a praying mother, contributed to her success."