Nigerian Girl Who Refused to Renounce Jesus for Her Freedom Begs for Help in Newly Released Audio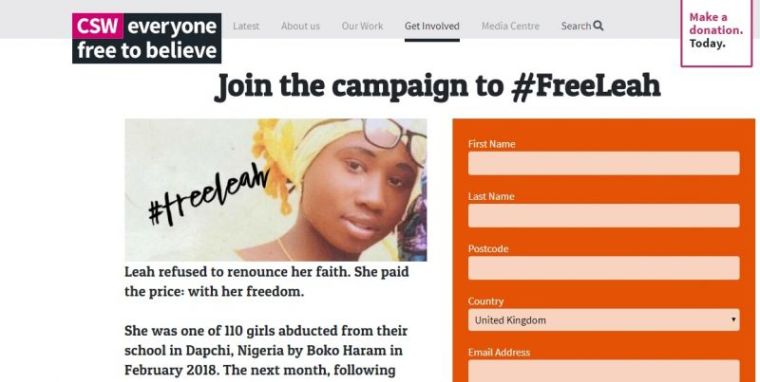 The family of Leah Sharibu, the 15-year-old Christian girl kidnapped by Boko Haram, confirmed that a new audio message of her begging for help is real.
The 35-second recording was first shared by Nigerian journalist Ahmad Salkida of TheCable and released on Monday. Sharibu, who was kidnapped in February during a Boko Haram raid on a girls school in Dapchi, Yobe state, pleads:
"I am Leah Sharibu, the girl that was abducted in GGSS Dapchi. I am calling on the government and people of goodwill to intervene to get me out of my current situation. I also plead to the members of the public to help my mother, my father, my younger brother, and relatives.
"Kindly help me out of my predicament. I am begging you to treat me with compassion, I am calling on the government, particularly the president, to pity me and get me out of this serious situation. Thank you."
The teen made news around the world when she was not released along with 110 others because she refused to renounce her faith in Jesus Christ.
International Christian Concern, one of the many groups that has been advocating for Sharibu's release, said that her family confirmed that it is her voice on the recording.
But President Muhammadu Buhari has yet to reach out to them.
"The government has not contacted [us] ever since she has been abducted and even today they have not contacted [us]," the parents said.
They added that they "appreciate [everyone] who is working to ensure her release. [We] continue to plead for more pressure to be put on the government until she is released."
Nathan Sharibu, her father, told BBC Pidgin that he is glad to know that his daughter is still alive.
"I'm really encouraged that I heard the words of my favorite daughter," he said.
He revealed that both "Christians and some Muslims ... are praying for my daughter."
"We are very, very sad in the family. I hope they will put more pressure concerning her release," he added.
The terror group that is holding Sharibu is also infamous for kidnapping 276 schoolgirls from the town of Chibok in 2014, which launched the #BringBackOurGirls campaign.
While many have been released, at least 100 are believed to still be under Boko Haram's captivity, with fears they may have been married off to Islamist fighters.
Special Adviser to the President on Media and Publicity Chief Femi Adesina, meanwhile, said that it cannot be known when Sharibu will be released.
"For how much longer, I think that question can only be answered by God. I believe that God is interested in that young girl and will ensure that she is preserved," Adesina said on a Channels Television program, Sunrise.
"I think when that clip that we have is verified, at least one will be sure that it's her and when that is determined, we should all be glad that she is alive," he added.
"When will she return? By the grace of God, the government is working on it and we believe she will be back."
Nathan Johnson, ICC's regional manager for Africa, also said that it is "amazing" to hear that the girl is still alive.
"We have hoped and prayed to hear that she is, and will continue to pray and work for her eventual release. Now is the time for President Buhari to show that he will truly work to rescue Leah from the hands of evil," he urged.