Nigeria's 'genocide': Who is helping the thousands of displaced Christians?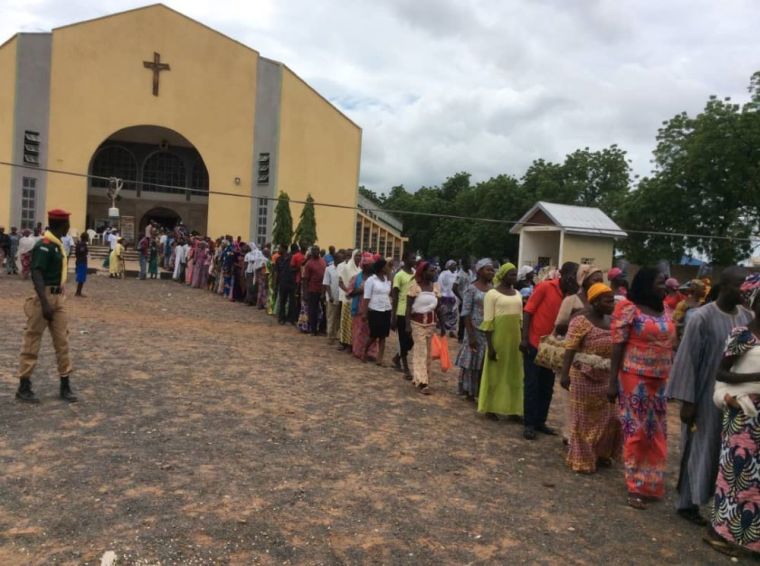 Houses for people displaced by Boko Haram 
In northeastern Adamawa state, when Boko Haram overran seven local government areas in 2015, some 3,000 people were living in the state's only private displacement camp run by the Catholic Diocese of Yola at St. Theresa's Cathedral. 
Bishop Stephen Dami Mamza told CP the diocese was also caring for as many as 7,500 displaced people living with host families in Yola neighborhoods.
While most who were displaced by Boko Haram in Yola have returned home after Boko Haram militants were forced to retreat into the Sambisa Forest by the Nigerian security forces, Mamza told CP that there are around 850 displaced people still living in the cathedral or tents surrounding the cathedral. 
Those 850 people who are still displaced, he said, are those whose homes have been destroyed, those whose farmlands have been filled with landmines or those whose farmlands are near the Sambisa Forest where Boko Haram militants are bunkered.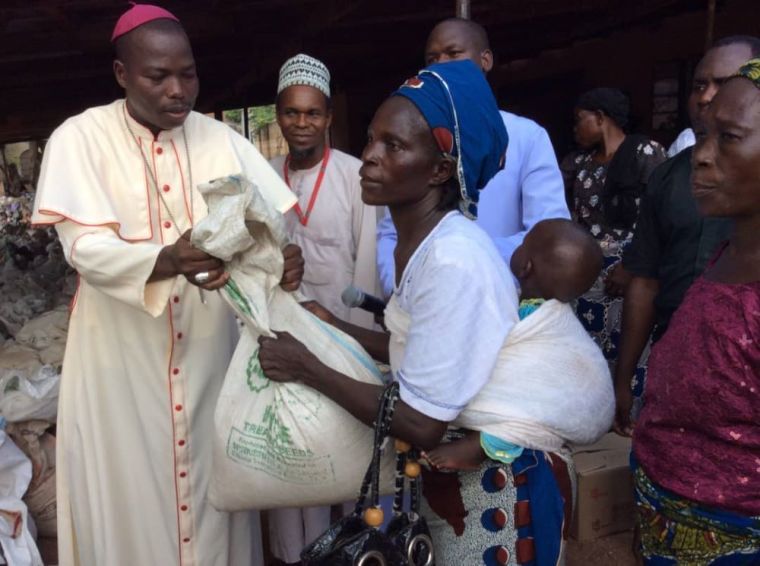 "We give them three square meals every day. And all their children, we have enrolled all of them in our Catholic Schools and secured some public schools for them," Mamza said of the diocese's efforts. "All of their children are all in school. They seem to be quite happy. The only thing is that there is no way to continue to be happy in the camp. They are tired of living in the camp."
Through its Justice Development and Peace Commission, the diocese is providing entrepreneurial training to those displaced in the camp. Some are taught how to make things like sandals and bags, while others are taught the craft of tailoring. Additionally, some receive agricultural training.  
The diocese has also acquired plots of land that the displaced farmers can use to plant crops to harvest for food and to sell in the local market.

Mamza said donors who provide relief materials are also getting tired and worried because the Nigerian government "is not serious" about finding a permanent solution. 
"There is nothing coming from the government," Mamza said, adding that displaced people who are living in public displacement camps in Adamawa state are basically "on their own because nobody is taking care of them." 
"The government is supposed to be taking care of them but they are not doing it well at all. They are only giving skeletal services." 
Thanks to a donation from the German-mission organization Missio, the diocese is constructing 86 houses to shelter all 850 displaced people living at the cathedral in Yola about 15 miles from the camp in the Gerie local Government area.
Mamza said the diocese is also looking to find a way to build a school for the new community. Currently, most children in the camp are attending Catholic schools in Yola while the diocese is paying the school fees for others to attend public school. 
Although construction is nearly halfway completed, Mamza said construction has been temporarily halted due to the COVID-19 pandemic. 
"For them to be able to build their homes in villages, we can't tell and we don't know when that will happen," he admitted. "That's why the houses we are building for them will be donated to them to be their personal houses. Nobody will ever ask them to leave. It will be their own houses and they will pass it down to the next generation of children in the future." 
In Maiduguri, Bature said the diocese is assisting in several ways to help people displaced by Boko Haram. The diocese goes into camps to distribute food and relief materials as well as provide entrepreneurial skills acquisition training. 
Additionally, the diocese provides psychosocial support to IDPs who need more emotional support. 
"Some of them have suffered the loss of their parents or have seen their parents killed before them. Some of them have seen their sons or daughters raped," Bature said. "So they have received various forms of grave maltreatment or assault or violence."
Thanks to over $325,000 donated to the Catholic charity Aid to the Church in Need, the diocese will be able to build a resource center to better assist those displaced. 
"In the center, we have the skill acquisition training," he said. "So the psychosocial support and therapy go on. But once we do that for some time, they graduate to acquire a skill. They can learn a lot of those skills in that center. And we help them when they resettle back in their communities."
Among the organizations that have supported the diocese's efforts are Caritas International, Christian Aid, Christian Solidarity International and a Latter-day Saints charity.
"Their needs are still very high," Bature stressed. 
'The greatest need is peace'
While hunger and health concerns abound for Nigeria's displaced communities, the greatest concern is halting the violence and allowing people to return to their lands and homes. 
Last month, Bature attended a meeting of the International Religious Freedom Roundtable in Washington, D.C., to speak about the plight of Christians in Nigeria and call for the U.S. government to pressure the Nigerian government to do more to stop the violence. 
"The U.S. has been involved in so many issues, trying to help nations stabilize their democracy, help people to live very peacefully," Bature said.
"Of course, no doubt if the U.S. government legitimately respects the sovereignty of the country and the government, they can help the government also see what its responsibility is. It is the responsibility of the Nigerian government to provide security for their people, to ensure that the rights of the citizens are respected and everyone can have the freedom of conscience of religion to practice his or her own religion in peace."
In December, the U.S. State Department placed Nigeria on its "special watch list" for countries that engage in or tolerate severe violations of religious freedom because of a "lack of effective government response" to the ongoing crises. 
As some have concluded that the violence in Nigeria has reached "genocide" levels, there is an ongoing effort to pressure the U.S. State Department to appoint a special envoy for Nigeria. 
Although the U.S. recently appointed a special envoy for the Sahel region of Africa, advocates fear that action does not specifically address the violence in Nigeria.
The International Committee on Nigeria launched a campaign in March backed by conservative evangelical leaders Tony Perkins and Johnnie Moore to call on the U.S. government to be more active in helping prevent the "silent slaughter" in Nigeria. The campaign is part of a global initiative led by Peace Building and Social Justice. 
According to the initiative, over 60,000 people have been killed in Nigeria since 2001. 
Before the coronavirus pandemic halted events throughout much of the world, there were plans to hold a protest outside of the Nigerian embassy in Washington, D.C., in March. 
"We are inspiring people to do it their own way to raise this awareness about the killings that are going on in Nigeria," Stephen Enada from the International Committee on Nigeria told CP. 
"We should be able to expand on the support that we are [receiving from churches in the U.S.] This is dependent upon how many churches and church leaders are aware of this and want to help."