Nike settles lawsuit over rapper Lil Nas X's 'Satan Shoes'; MSCHF to offer refunds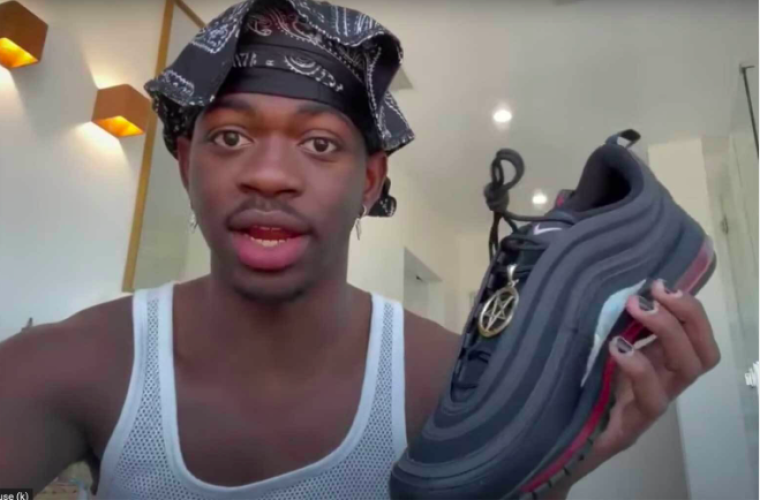 MSCHF, the Brooklyn-based collective behind the "Satan Shoes" line released in collaboration with rapper Lil Nas X, has resolved a copyright lawsuit filed by Nike and will offer to repurchase the customized sneakers from consumers.
The Wall Street Journal reports that Nike settled its legal dispute with the New York-based fashion and art collective last week. The controversial shoes in question are modified Nike Air Max 97s that incorporate drops of blood and ink into an air bubble.
A total of 666 sets, priced at $1,018 each, sold out in less than a minute last month.
The shoes are decorated with a pentagram pendant and a reference to Luke 10:18: "And he said to them, 'I saw Satan fall like lightning from heaven.'"
MSCHF will offer refunds to people who want to return the sneakers under the terms of the settlement, according to Nike.
"MSCHF has agreed to initiate a voluntary recall to buy back any Satan Shoes and Jesus Shoes for their original retail prices, to remove them from circulation," Nike said in a statement.
David Bernstein, a lawyer with Debevoise & Plimpton LLP representing MSCHF, said the company was "thrilled" with the outcome. 
"MSCHF from the start distributed these shoes to make a statement, and thanks to the lawsuit and all of the publicity that came from it, that statement reached far more corners than we expected," he said, according to the newspaper.
"These shoes were never about making money. MSCHF made these shoes to make a point about how crazy collaboration culture has become," Bernstein added, noting that the shoe "appeared to be a collaboration with Satan."
The settlement comes about a week after a U.S. District Court judge in Brooklyn granted Nike a temporary restraining order against MSCHF, claiming the shoes falsely associated MSCHF with Nike. 
The Satan Shoes release coincided with Lil Nas X's latest single, "Montero (Call Me By Your Name)," and its accompanying music video. In the video, Lil Nas X descends a stripper pole and gives Satan a lap dance.
The openly gay rapper, whose real name is Montero Lamar Hill, explained the song was about a guy he met last summer. 
The Satan Shoes line is a follow-up to the release of the collective's Jesus Shoes, which reportedly contain holy water. The white shoes are marked with the phrase "MT. 14:25," which references Matthew 14:25.
Both the release of the Satan Shoes and the music video, announced ahead of Palm Sunday weekend, drew criticism from conservative and Christian leaders. 
On Facebook, Samaritan's Purse head Franklin Graham, the son of legendary evangelist Billy Graham, called the shoes "a dangerous marketing endeavor."
"The morals in this country have fallen so fast, and many times the entertainment industry is leading the way," he wrote.
"The Word of God says, 'And do not fear those who kill the body but cannot kill the soul. Rather fear him who can destroy both soul and body in hell' (Matthew 10:28). Hell is a real place, and so is the eternal torment of those who reject Jesus Christ as Lord and Savior."
In a statement to The Christian Post, conservative author and evangelist Alex McFarland said that using Satan as a marketing tool is "disconcerting."
"Believers and non-believers alike have questions about Satan and the demonic," he said.
"Some youth seem especially prone to curiosity about the dark side.  There is no shortage of references to Satan in pop culture to satisfy public fascination, but it is important that our opinions on such be biblically informed."