Nikki Haley Defends Trump Tweet Comparing Nuclear Button Sizes With North Korea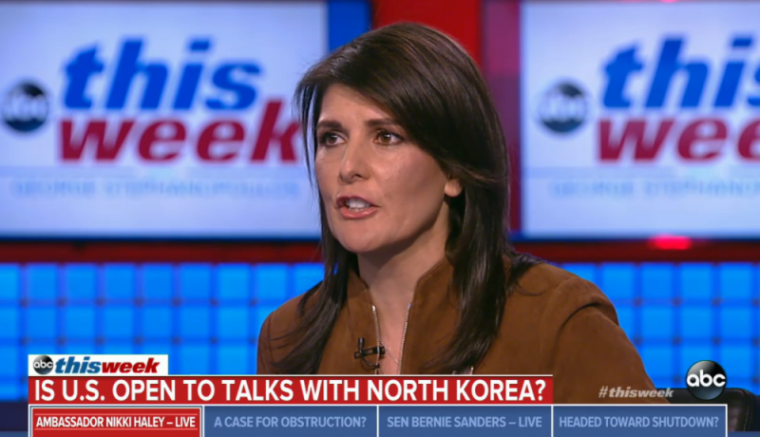 U.S. Ambassador to the United Nations Nikki Haley defended Donald Trump on Sunday, saying the president's comment on Twitter that he has a bigger and more powerful nuclear button than Kim Jong Un's has kept the North Korean leader "on his toes," which is needed.
Asked by ABC News' "This Week" host George Stephanopoulos if she thinks the president's tweet was a good idea, Haley said, "I think that he always has to keep Kim on his toes. It's very important that we don't ever let him get so arrogant that he doesn't realize the reality of what would happen if he started a nuclear war."
Trump's tweet read, "North Korean Leader Kim Jong Un just stated that the 'Nuclear Button is on his desk at all times.' Will someone from his depleted and food starved regime please inform him that I too have a Nuclear Button, but it is a much bigger & more powerful one than his, and my Button works!"
Haley continued, "We're not going to let them go and dramatize the fact that they have a button right on their desk and they can destroy America. We want to always remind them we can destroy you too, so be very cautious and careful with your words and what you do."
Asked how world leaders from across the globe "respond overall to the president's tweets," Haley answered, "I don't think they're tuning them out. If anything, I notice that they're are absolutely glued to them, but they see him as unpredictable … I don't think ever too unpredictable. I think they don't know what the U.S. is going to do at any given time, and so for that reason they're getting much more cautious and they're paying attention to how they work with us. So, you know, we've got a ways to go, but it's not a bad thing, it's really not."
In another interview, ClA Director Mike Pompeo also defended the president.
Pompeo said on CBS "Face the Nation" that Trump's tweet was "consistent with U.S. policy" of denuclearization of the Korean peninsula.
On "Fox News Sunday," Pompeo explained, "We want the regime to understand that, unlike before, we are intent on resolving this and it is our firm conviction that resolving this diplomatically is the correct answer but that this administration is prepared to do what it takes to assure that people in Los Angeles, in Denver, in New York are not held at risk from Kim Jong Un having a nuclear weapon."
The North Korean leader made the nuclear button remark in his New Year's Day address.
In December, Rep. Sen. Lindsey Graham warned that the United States was "getting close to a military conflict" with North Korea, which has developed an intercontinental ballistic missile capable of reaching the U.S. with a nuclear warhead.
"We're getting close to a military conflict because North Korea's marching toward marrying up the technology of an I.C.B.M. [intercontinental ballistic missile] with a nuclear weapon on top that cannot only get to America but deliver the weapon," Lindsay said in an interview with CBS News.
"We're running out of time," he continued. "I'm going to urge the Pentagon not to send any more dependents to South Korea. South Korea should be an unaccompanied tour. It's crazy to send spouses and children to South Korea, given the provocation of North Korea. So I want them to stop sending dependents. And I think it's now time to start moving American dependents out of South Korea."