North Carolina House Approves Bill to Put Billy Graham Statue in US Capitol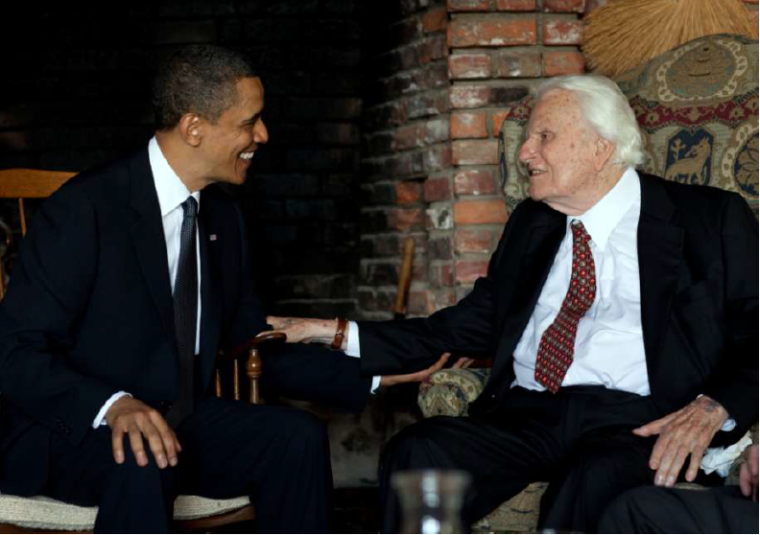 The North Carolina House has approved a proposal to put a statue of evangelist Billy Graham in National Statuary Hall at the U.S. Capitol, replacing the stature of Gov. Charles B. Aycock, who has come under criticism for his white supremacist views.
All states can contribute two statues each inside the U.S. Capitol, and some of them are placed within Statuary Hall. States can also request changes, as North Carolina wants to do.
After much debate, the chamber voted 71-28 for the bill. If the N.C. Senate also backs it, a statue of Graham will replace that of Gov. Aycock, which was installed in 1932.
"We are talking about someone who has affected positively millions and millions of Americans and people around the world," News & Record quoted Rep. John Blust, a Republican, as sayings. "What more could you want out of someone to represent our state in the United States Capitol?"
Bill sponsor Rep. Charles Jeter, also a Republican, said he couldn't think of anyone more worthy than Graham, according to The Associated Press.
"I just honestly believe he is the right person for this position," Jeter said, adding he has got permission from Graham's family.
Gov. Aycock, who was governor from 1901 to 1905, has drawn criticism for allegedly being part of North Carolina's white supremacy movement. Some college dormitories and other public buildings have debated removing his name for that reason.
Some Democratic lawmakers opposed the bill for the Graham statue, arguing that the General Assembly needed more time to consider other possible candidates for the post in Statuary Hall.
Some suggested those candidates could be African American furniture maker Thomas Day, "father of the U.S. Army Airborne" Gen. William Lee, lawyer and civil rights leader Julius Chambers or basketball coach Dean Smith.
"If it had been more open, if it had not skipped the committee and vetting process, it might have been a totally different outcome," News 13 quoted Rep. Susan Fisher, a Democrat, as saying.
"I felt like there should have been more input from the residents of North Carolina," Fisher added. "Now certainly Billy Graham would have been right there on the list of people nominated… Now I have no issue with Billy Graham being that person, but process is really important to every citizen of North Carolina."
The Graham statue cannot be erected as long as he is alive, according to replacement guidelines. If the Senate passes the bill, a state committee would select a sculptor and obtain project funds.
Graham is 96 years old and weak but his mind is still clear, his son, Franklin Graham, said earlier this year.
Billy Graham was hospitalized after his 95th birthday celebration for observation and lung tests in November 2013, and has been very weak since then.
"My father is ready to go to Heaven and whenever that day comes, he's ready," Franklin Graham said last January. "He's worked hard all of his life and faithful to preaching the gospel of Jesus Christ his entire life. And so he's ready to go home and I'm praying that the Lord will leave him a little longer. We need him."