'No God Condones This Terror;' Obama Calls on Global Leaders at UN to Help Defeat ISIS, Stop Danger of Religious Extremism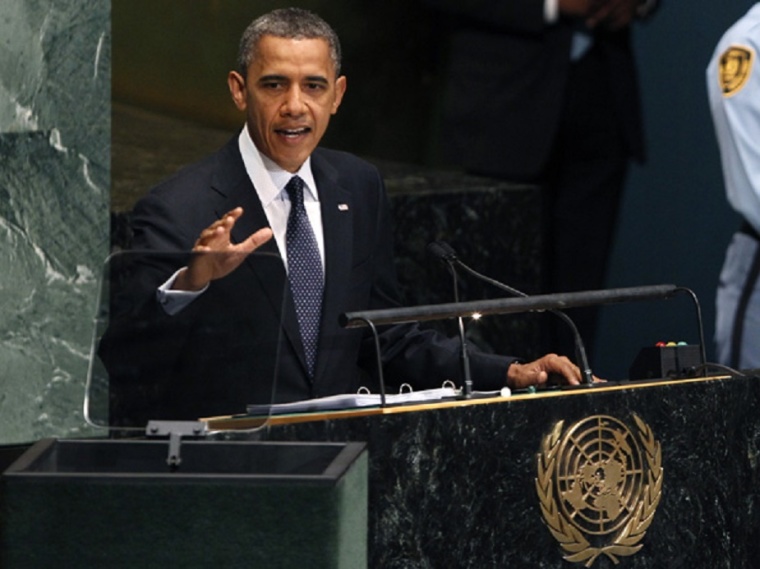 U.S. President Barack Obama called on global leaders at the United Nations General Assembly in New York Wednesday to help him defeat ISIS and stop religious extremism after highlighting some of the atrocities committed by Islamic terrorist group ISIS and declaring "no God condones this terror."
"It is no exaggeration to say that humanity's future depends on us uniting against those who would divide us along fault lines of tribe or sect; race or religion," said Obama in his address that was televised to the nation.
"This is not simply a matter of words. Collectively, we must take concrete steps to address the danger posed by religiously motivated fanatics, and the trends that fuel their recruitment," he continued.
"The terrorist group known as ISIL must be degraded, and ultimately destroyed. This group has terrorized all who they come across in Iraq and Syria," he noted.
"Mothers, sisters and daughters have been subjected to rape as a weapon of war. Innocent children have been gunned down. Bodies have been dumped in mass graves. Religious minorities have been starved to death. In the most horrific crimes imaginable, innocent human beings have been beheaded, with videos of the atrocity distributed to shock the conscience of the world," he explained in highlighting some of the atrocities committed in the name of Islam.
"No God condones this terror. No grievance justifies these actions," Obama continued.
While he denounced the action of Russia in the Ukraine as against international norms, and lamented the bullying of smaller nations by bigger ones, President Obama highlighted that U.S. action in Iraq and Syria to defeat ISIS was necessary because the group cannot be reasoned with.
"There can be no reasoning — no negotiation — with this brand of evil. The only language understood by killers like this is the language of force. So the United States of America will work with a broad coalition to dismantle this network of death," he said.
Obama then asked the group of global leaders to join him in defeating ISIS and warned fighters that they should leave the battlefield while they still could.
"Today, I ask the world to join in this effort. Those who have joined ISIL should leave the battlefield while they can. Those who continue to fight for a hateful cause will find they are increasingly alone. For we will not succumb to threats; and we will demonstrate that the future belongs to those who build — not those who destroy," said Obama.
He also pointed to a Security Council resolution to be adopted later on Wednesday that tasked governments with fighting against extremist ideologies in their own countries.
"Later today, the Security Council will adopt a resolution that underscores the responsibility of states to counter violent extremism. But resolutions must be followed by tangible commitments, so we're accountable when we fall short," said Obama.
"Next year, we should all be prepared to announce the concrete steps that we have taken to counter extremist ideologies — by getting intolerance out of schools, stopping radicalization before it spreads, and promoting institutions and programs that build new bridges of understanding," he continued.
"There is nothing new about wars within religions. Christianity endured centuries of vicious sectarian conflict," he said.
"Today, it is violence within Muslim communities that has become the source of so much human misery. It is time to acknowledge the destruction wrought by proxy wars and terror campaigns between Sunni and Shia across the Middle East. And it is time that political, civic and religious leaders reject sectarian strife," he noted.