John Kerry and Iranian Minister Discuss ISIS, Nuclear Program; Refugee Surge Continues as Militants Behead Villagers in Syria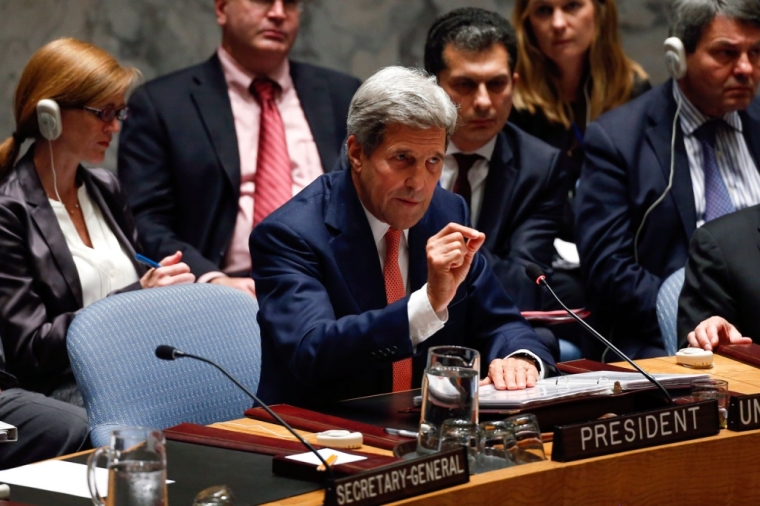 U.S. Secretary of State John Kerry discussed Iran's nuclear program and the ISIS threat with his Iranian counterpart Sunday even as Islamic State militants intensified attacks, including beheadings, on villages in northern Syria, forcing tens of thousands of Kurds to flee to Turkey.
Kerry met with Iranian Foreign Minister Mohammad Javad Zarif on the sidelines of the United Nations General Assembly gathering in New York to push for an agreement between six world powers – the US, Russia, China, Britain, France and Germany – and Iran to curtail the latter's nuclear program in exchange for an easing of economic sanctions.
Kerry "noted that this week is an opportunity to make additional progress and stressed that it is our intention to do so," The Associated Press quoted a senior State Department official as saying about the meeting, which was held at a hotel and lasted for more than an hour.
Kerry and Zarif "agreed to meet further as needed while in New York," the official added.
The United States has not had diplomatic ties with Iran since the hostage crisis following the 1979 Islamic revolution in that country. While Tehran claims its nuclear enrichment programme is civilian in nature, Washington suspects it could be aimed at building the capability to produce atomic weapons.
The nuclear negotiations had stalled for months due to Tehran's reluctance to reduce the size and output of centrifuges which is a key factor in determining if uranium can be used as reactor fuel or for making nuclear weapons.
Kerry also separately discussed with Zarif the international threats posed by the Sunni terror group Islamic State, or ISIS, which has captured large swathes of territories in Iraq and Syria.
The United Nations said Sunday that the number of Syrian Kurds fleeing into neighboring Turkey has likely risen to 100,000.
ISIS, also known as ISIL, launched an offensive in Syria's northern Kobani area, which borders Turkey, last week, and carries on with killing and kidnapping civilians as it gains control over more villages in the region.
"ISIL are continuing to advance. Every place they pass through they kill, wound and kidnap people. Many people are missing and we believe they were kidnapped," Reuters quoted Welat Avar, a Kobani-based doctor, as saying. "We now urgently need medicines and equipment for operations. We have many casualties ... ISIL killed many people in the villages. They cut off the heads of two people, I saw it with my own eyes."
ISIS militants have captured dozens of villages surrounding the border town of Kobane.
"Rather than a war this is a genocide operation ... They are going into the villages and cutting off the heads of one or two people and showing them to the villagers," Ibrahim Binici, a deputy from Turkey's pro-Kurdish Peoples' Democratic Party, or HDP, was quoted as saying. "It is truly a shameful situation for humanity."
About a fortnight ago, ISIS released a video showing the beheading of a 44-year-old British aid worker, David Haines, the father of two who went to Syria to serve at a refugee camp. The Sunni terror group previously released two more videos showing the beheadings of U.S. journalists James Foley and Steven Sotloff, and has threatened to kill more Western hostages.
The United States has launched 183 airstrikes across Iraq to fight ISIS militants since August, and is now planning military action in Syria through an international coalition.
"We're waiting to hear whether Iran thinks it has a constructive role to play," U.S. Ambassador to the UN, Samantha Power, said on CBS's "Face the Nation" program Sunday. "But I would note that Iran's behavior and its actions in Syria have been very destructive from our perspective, supporting Hezbollah, supporting the Assad regime."
Power stressed that the U.S. will not launch airstrikes alone. "But we're going to leave it to other nations to announce for themselves what their specific commitments to the coalition are going to be."
ISIS, or Islamic State of Iraq and Syria, is an al-Qaeda offshoot, which wants to form an Islamic emirate in the Levant region through "jihad." According to the CIA, ISIS has about 31,500 fighters across Iraq and Syria.
ISIS is believed to have hundreds of foreign fighters, including those from the United States and Europe. Its men have killed hundreds of civilians in Iraq. Numerous members of the Christian and Yazidi minorities have also been killed, and tens of thousands of them have fled their homes.