President Obama Sparks Storm of Criticism for Saluting Marines With Coffee Cup in Hand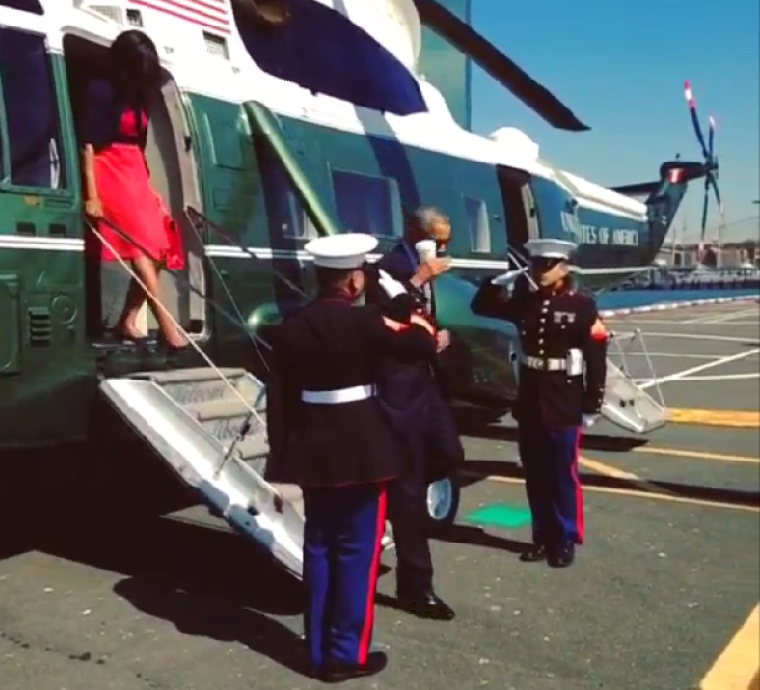 President Barack Obama has sparked a storm of criticism over what many have branded a disrespectful act to the military when he saluted a pair of United States Marines while holding a Styrofoam cup of coffee in his hand on his arrival in New York City for the 2014 United Nations General Assembly on Tuesday.
The White House first posted a short video clip of the incendiary salute on Instagram Tuesday showing him with First Lady Michelle Obama in tow.
"President Obama just landed in New York for #UNGA2014," the White House noted in part of the message accompanying the video.
The video quickly went viral attracting heavy criticism from public figures like former Alaska Gov. and Republican vice-presidential candidate Sarah Palin who apologized for Obama's actions on her Facebook page Wednesday.
"U.S. Armed Forces, our apologies," she said.
Palin's post, which was shared more than 8,000 times as of Wednesday morning, sparked a vibrant debate among her followers, some of whom felt the issue was a storm in a teacup.
"There's so much more going on in the world than worrying about a salute. Let's worry about Americans being slaughtered overseas by ISIS or al-Qaeda. The man has a lot on his plate and he could [have] honestly forgot the cup was in his hands when he saluted. He isn't perfect so stop acting like he is. I so wish I could post numerous pictures of Bush saluting with his dog in his arms but it won't let me probably bc she knows there's pictures of Bush being just as disrespectful. Let's worry about important stuff instead of petty stuff while we're engaged in war," Andrew M Jackson commented.
Gene Frame Sr., disagreed, however, adding, "Obama doesn't know anything concerning military courtesy. Being a civilian he isn't required to return the salute but if he does, nothing should be held in the saluting hand, always one's right hand. Since he happens to be the commander-in-chief you would think he would take 5 minutes to learn protocol."
Jenny 'Chapman' Campbell, another commenter, agreed: "To the people who say he doesn't have to salute!! Well he shouldn't have in the first place with that coffee in his hands. It was extremely disrespectful!! He has no respect for our military. All he cares about is his vacations and golfing. And he is a complete joke!"