'Ex-Muslim' Pastor Naeem Fazal Refutes Claim That 'Muslim Spies Are Inside Every Church in America'
'Ex-Muslim' Pastor Naeem Fazal Refutes Claim That 'Muslim Spies Are Inside Every Church in America'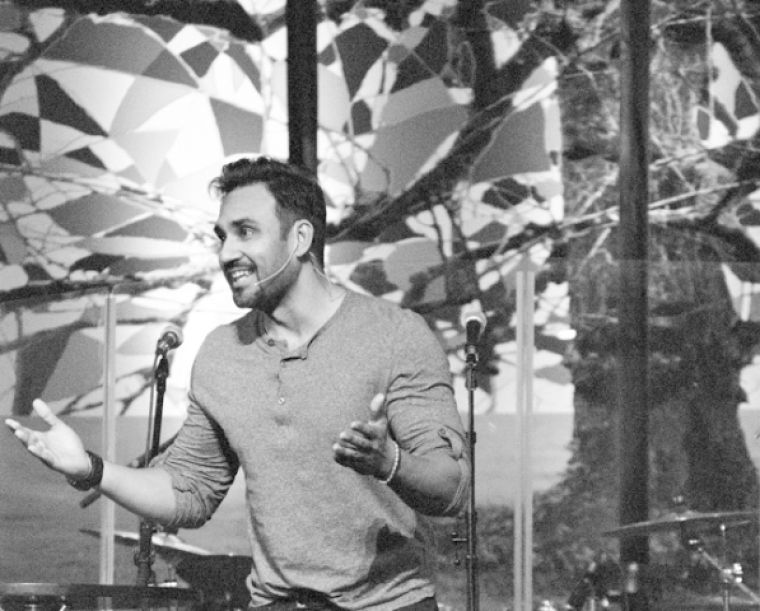 After outspoken Jewish Author Avi Lipkin told a prominent evangelical gathering last month that "all" churches have Muslim spies cataloging Christians for the day Jihad is called on America, one former Muslim who is now a Christian pastor says Lipkin's claim is nothing more than a fear-driven "conspiracy theory."
Lipkin, who is an Israeli citizen and frequent critic of Islam, tours American Christian churches and issues dire warnings about the jihadi threats the religion presents to the world. In mid-June, Lipkin, who has authored seven books, spoke at the the Skyline Wesleyan Church's Future Conference in San Diego, hosted by the church's pastor, Jim Garlow, where he explained that his wife works eight hours a day listening to Arabic hardline radio, internet and TV feeds for the Israeli government.
"My wife has picked up broadcasts that say all the churches in America have Muslim spies in them, including former Christians who converted to Islam," Lipkin proclaimed on June 15. "When Muslims come to you and say, 'Oh yes, we have accepted Christ and we are born-again,' you gotta be real careful because lying in Arabic is not only permissible it is commanded. Lying is a virtue in Islam to defeat the enemy."
In a follow up interview with The Christian Post, Lipkin did not back down from his claim that there are Muslim spies in churches, except to say that it is unlikely that Muslim spies have infiltrated small congregations located on "back-hill" countrysides.
"I am talking more about the megachurches and the big churches that the Muslims are interested in monitoring." Lipkin explained. "That is where you are going to find Muslim spies."
Naeem Fazal, the pastor of Mosaic Church in Charlotte, North Carolina, and author of the book Ex-Muslim, grew up in Kuwait as a Muslim but has been involved in the evangelical Christian community for over 20 years. Fazal told CP that he believes Lipkin's "Muslim spies" claim is "not true at all."
"Because I don't know him, I don't know where he is coming from but it seems to me that he is motivated either by fear or trying to create awareness in the Christian community with fear. It is a fear-based statement," Fazal said. "I don't see that to be true at all. The claims are pretty out there, in terms of the ideology that he is presenting that Muslims believe. It is hard to find that in the Quran itself."
Fazal further explained that most churches tend to notice when individuals of different cultures attend their services.
"For so many churches, especially evangelical churches, they are so tuned in to who is coming in through the doors that if they see some semi-Muslim or a different culture, they are so excited," Fazal said. "They are going to be in their lives and going to make sure that happens. So, I think people are aware. Now again, you have megachurches. Now, do they know all among the tens of thousands that come? I don't know. But again, I think it is a conspiracy theory."
Fazal explained that he was even once accused by a woman who attended his church of being a Muslim sleeper cell.
"She tells me that for six months she believed that I was a sleeper, exactly what [Lipkin said]," Fazal explained. "I wanted to laugh out loud. That was the first time that I had ever heard something like that, but I knew that she was very seriously convinced. I knew that she was repenting. I didn't even know how to comfort her. I thought it was so absurd that I felt sorry for her."
"How much fear do you have to live under, the amount of fear and anxiety in life you are carrying is counter to the message of Christianity," Fazal continued. "You are supposed to be the most bold and courageous and faith-filled. That's what the Christian message is, but instead you are here for six months carrying this burden that I am a sleeper cell guy."
Although Fazal said it is "absurd" for the congregant to believe he was a sleeper cell or for Lipkin to boldly assert that churches have been infiltrated by Muslim spies, he knows that there are many Christians who actually believe such claims are true.