Noah's Ark Theme Park Suffering From Lack of Donations
A Kentucky theme park project overseen by a major creationist organization is suffering from a lack of donations from the general public as well as a delayed ground-breaking.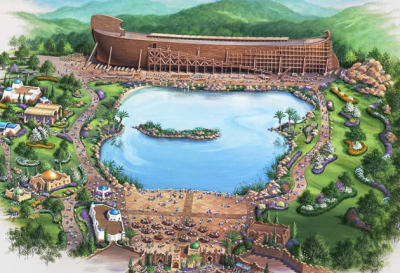 Answers in Genesis has only raised about $4.4 million of the needed $24.5 million for the Ark Encounter theme park, which would feature a life-sized replica of Noah's Ark, Answers in Genesis.
Mark Looy, co-founder and chief communications officer for Answers in Genesis, told The Christian Post that his organization was happy to get that much from donors.
"We are thrilled that even in a difficult economy, thousands of supportive people have already made donations to the full-size ark," said Looy. "It is important to point out that donations to Answers in Genesis for the Ark Encounter project are just one aspect of the Ark Encounter funding."
Looy explained that a "major part" of the funding was "through private equity from the Ark Encounter, LLC, a Missouri limited liability company, which will own the attraction."
Although the donations are only part of the funding, the money issue has apparently caused the ground-breaking date for the theme park to be continually delayed.
According to LEO Weekly of Louisville, Ky., Answers in Genesis' ground-breaking was originally scheduled for spring of 2011, then it was pushed back a couple times before being announced to occur in spring 2012.
"December and early January have always been AiG's strongest donation season, and by mid-January, Ark contributions should see another spike," said Looy.
Since being announced, the Ark Encounter park has stirred controversy for not only its interpretation of scientific evidence and literalist interpretation of the Bible, but also because of concerns by some church-state watchdog groups over its funding sources.
Groups like Americans United for Separation of Church and State have said that the Ark Encounter project should not receive tax incentives from the Kentucky government.
"Gov. Steve Beshear (D) has backed this project under the guise that it will create jobs. Maybe that's true, but so far the state's $40 million incentive package has not created a single useful thing for anyone," wrote Simon Brown of Americans United.
"Even if the 'Ark Park' does eventually create jobs, the state is still wrong to be backing a fundamentalist religious organization."
Gil Lawson, director of communications for the Tourism, Arts and Heritage Cabinet of Kentucky, told CP that the project had not yet taken advantage of the state's tax incentive program.
"Kentucky's tourism tax incentive programs do not take effect until the project is open to the public and collecting taxes from its patrons," said Lawson.
Regarding the church-state issue, Lawson said that according to federal law, "faith-based organizations may apply for government funded incentive programs as long as the incentive was not created solely for that organization, and that the process is open to all applicants."
"Any organization seeking to create a tourism attraction with legal entertainment may apply for these incentives."
In addition to the proposed Ark Encounter Theme Park, Answers in Genesis already has a Creation Museum located near Petersburg, Ky.
According to Looy, the Museum in Petersburg receives approximately 300,000 visitors a year and has expanded to include a 1,000-seat auditorium as well as several new exhibits.
The Christian Post Daily Report 12.29.11