Noah's Ark 'Would Have Worked,' Say UK Scientists: 'We Were Quite Surprised' at Results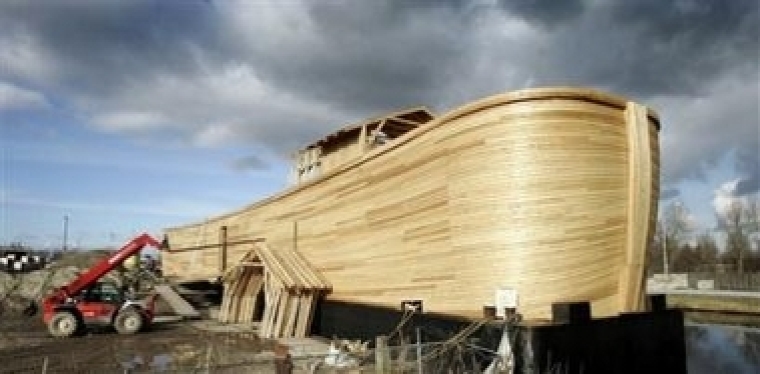 Noah's Ark could have happened, according to several postgraduate students from the Department of Physics and Astronomy at the University of Leicester in the U.K. In the Bible, God told Noah to build a huge boat and take many animals into it to save them from the coming flood, and in the wake of the Darren Aronofsky-directed film "Noah," the scientists are proving that the wooden ark could have floated.
Noah's Ark is detailed in Genesis 6:13-22, where God gave the world's sole righteous man the task of building a boat 300 cubits long, 50 cubits wide and 30 cubits high out of gopher wood. After the physics scientists worked out that a cubit is about 48.2 cm or about 1.58 feet, they were able to calculate the average weight of 70,000 animals and were stunned by the results.
"You don't think of the Bible necessarily as a scientifically accurate source of information, so I guess we were quite surprised when we discovered it would work," Thomas Morris, 22, told The Telegraph U.K. "We're not proving that it's true, but the concept definitely would work."
While the Leicester University postgraduate students didn't address issues like adequate living conditions for the animals, they did conclude that the weight of the ark's cargo would not have caused it to sink.
"Using the dimensions of the Ark and the density of the water, we were able to calculate its buoyancy force, which, according to Archimedes' principle, is equal to the weight of the volume of fluid the object displaces," explained 21-year-old Benjamin Jordan of Bury St. Edmonds.
"This meant we were then able to estimate the total mass the Ark could support before the gravitational weight would overcome the buoyancy force, causing the Ark to sink," he added.
The scientists also had to guess that gopher wood could be accurately substituted with cypress wood and didn't attempt to solve logistical problems, such as where all the animals would fit. Their results were presented in the Journal of Physics Special Topics, which is a peer-reviewed scientific journal run by the department.