'Our secret weapon is prayer': Nonprofit working to bring Afghan Christian family to safety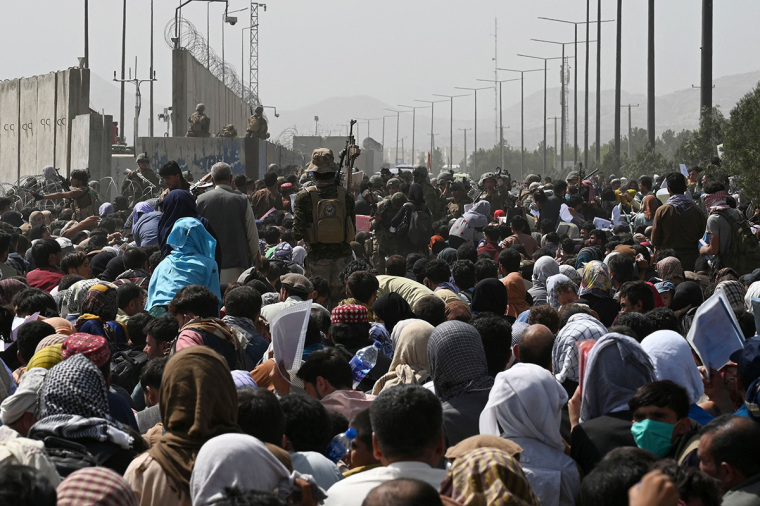 As the Taliban continues to gain control of Afghanistan a former Marine, who's now the leader of a nonprofit agency helping victims of trauma, says he's working to bring an Afghan family of eight who converted to Christianity to safety in the U.S.
Victor Marx, who was stationed at Camp Pendleton and Twentynine Palms in southern California during the 1980s, is the CEO of All Things Possible, a Christian nonprofit organization that works to "identify, interrupt & restore those affected by trauma."
Marx's ministry specifically addresses "the plights of those affected by [the Islamic State], troubled juvenile offenders, and … military personnel from all branches including the special operations community." Having found All Things Possible after the rise of ISIS in 2014, Marx told CP that he's been to Iraq and Syria more than a dozen times.
With the Taliban on the march in Afghanistan following the withdrawal of U.S. troops, many Christians and other religious minorities living in the country find themselves in danger. Marx is working to secure the funds necessary to rescue a Christian family that he says the Taliban is chasing.
While the family's Christianity has made them a target of the Taliban, Marx also attributed the danger they face to the fact that they belong to "an ethnic tribe that is loathed by the Taliban."
The father in the family worked with the U.S. government, another factor that contributes to the Taliban's desire to kill them, Marx said.
The former Marine predicted that if the Taliban capture the family, "they'll kill the wife and children in front of the husband to make him suffer before they kill him."
Marx first became aware of the situation when an Afghan-born woman whose American husband worked with him in the past left him a frantic voicemail that he shared on his Instagram account.
"I really need help. I just talked to my sister and her family, they are in danger. They are trying to run out of the city and … they are being chased by the Taliban," she said.
"They were screaming, pleading, asking for help," the woman added. "She was saying 'please have mercy on us, 'please send help.'" She pleaded with Marx to help her family and from there, the evangelist announced on his Instagram page that "the rescue of a family in Afghanistan has begun."
Marx first informed his followers on social media Tuesday about his intention to rescue the family, explaining that "we have close ties because of their relative who has worked with us."
"They are definitely persecuted," he stressed. "They are being hunted by the Taliban."
He gave a status update about his efforts to rescue the family earlier this week. In an Instagram post, he said he'd been "up most [of] the night texting and communicating with this family."
Noting that "they've been trying to get out [for] months through proper channels with the embassy," Marx said his organization is "their only hope to get out before they are found and murdered."
"Our secret weapon is prayer. We have thousands of people praying," Marx told The Christian Post. "And of course, people supporting the funding aspect of it."
Marx said he's also informed the U.S. State Department as well as Rep. Doug Lamborn, R-Colo., who represents Colorado Springs, where All Things Possible is based.
He told CP that his church, Calvary Worship Center, has also been supportive of his efforts.
"They believe that faith without works is dead, so they are absolutely supportive of what we're doing and they have been for years," he said. 
Marx emphasized that the ultimate goal of his rescue operation is to bring the family to the U.S.
"All Things Possible is prepared to sponsor them to the U.S. and help them transition with actually a family member in the U.S.," he said.
The chaos that has ensued following the withdrawal of U.S. troops from Afghanistan has made Marx's effort to bring the family to safety more difficult.
"We have people on the ground giving us real-time intelligence," he said. Describing the situation in Afghanistan as "absolutely horrific," he lamented that "there are American citizens that are in Kabul that are stuck." Although he is dedicating particular attention to rescuing the family of eight, Marx has also received calls for help from American families stranded in the war-torn country.
"We're getting many messages from Americans that are stuck saying, 'can somebody rescue us,'" he said.
Marx slammed what he described as the "poor leadership" of the Biden administration: "It's an absolute travesty largely created, honestly not by the Taliban [but] by the U.S. government, by the Biden administration."
Although the Biden administration has faced heat for its handling of Afghanistan pullout, the Trump administration first made plans to leave Afghanistan and faced pressure for its delay in resolving Special Immigrant Visa applications for thousands of Afghans and Iraqis who aided Americans. 
Marx contended that the U.S. military should have worked to "systematically, safely [and] methodically" evacuate U.S. citizens and Afghans that worked with the U.S. government. He shared his belief that there are "tons" of American citizens waiting to evacuate Afghanistan who've become "dehydrated" and "sick."
Marx also issued a plea to the American people.
"Americans, regardless of what political affiliation, religious or not, need to demand [that] the administration provide real humanitarian relief and bring every American home and those [Afghans] that worked with us to protect us."
In a short video, Marx detailed how his own conversion experience motivated him to help others seek redemption. Marx, who served in the Marine Corps from 1983 to 1986, suffered from abuse as a young child, including electrocution and molestation. As he got older, Marx began to drink and use drugs because he was "hurting a lot."
"I thank God that He kept me alive, to be able to not only tell my story in a way that's redemptive but give other people hope, including children both here in the U.S. and around the world," he proclaimed.
Although Marx always believed in God, he recalled that he initially viewed Him as "a very distant task-master."