North Carolina Community Defiantly Prays on School Grounds After Officials Ban Students From Using PA System for Pregame Prayer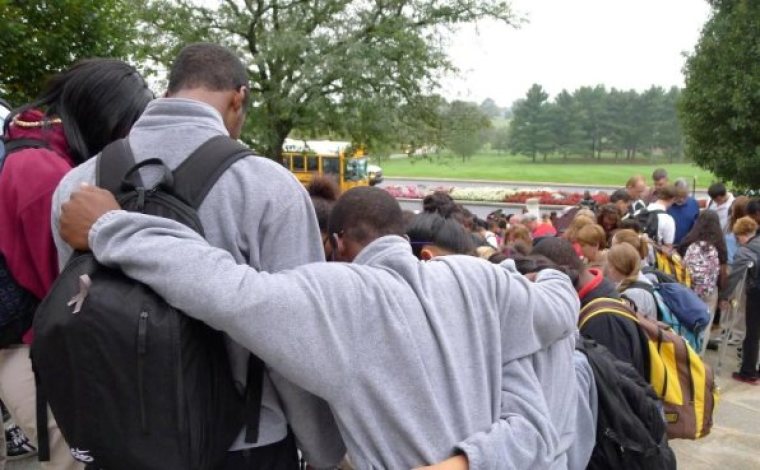 Thomasville, North Carolina, residents hosted a prayerful protest Friday on a high school football field after county officials disallowed students from hosting pregame prayers over the school's PA systems.
Hundreds of students, players and supporters walked onto Ledford High School's field and recited the Lord's Prayer after the Davidson County Schools system told student Samantha Warwick that she and her friends could no longer use the public announcement system to led prayer.
Warwick, who started the tradition of pregame invocation last year, told local news station WGHP she was saddened by the decision. "I'm kind of disappointed that someone would try to take something that so many students were in support of." However, Warwick and her supporters decided they "would handle this in a godly manner."
The public prayer was organized in part by Abbotts Creek Missionary Baptist Church Pastor Mark Hollar. Hollar met with several pastors in the area to organize the peaceful protest. He said, "Our parents and our students have the freedom to be here and they will be pray."
Thomasville's show of united prayer is the latest in a string of defiant game-day prayers. On Friday night, a group of students and parents at South Davidson High School, another North Carolina school in the Davidson County Schools district, also hosted public prayer.
Last month, Tennessee cheerleaders led a crowd in saying the Lord's Prayer after school officials said the Oneida High School public address announcer was banned from reciting a pregame prayer for the first time since 1930.
A Rasmussen survey released in 2011 showed that 65 percent of American Adults favor prayer in public schools.
Still, schools have bowed under the pressure of activists from groups such as the Freedom From Religion Foundation and the American Civil Liberties Union who assert that prayer during school-sanctioned events violate First Amendment protections against state-endorsed religion.
However, protesters argue the First Amendment also gives them right to speak openly about their faith.
According to a new student prayer bill signed into law in North Carolina this past summer, state public schools must permit students to pray either silently or aloud by themselves or in a group "to the same extent and under the same circumstances as a student is permitted to vocally or silently reflect, meditate or speak on nonreligious matters alone or with other students in public schools."