Transgender Bathroom Bill Introduced in Texas
Following in the footsteps of North Carolina, a conservative Texas lawmaker has introduced a controversial bill that would prevent local governments enacting transgender bathroom ordinances that force businesses to allow biological men into women's bathrooms and showers.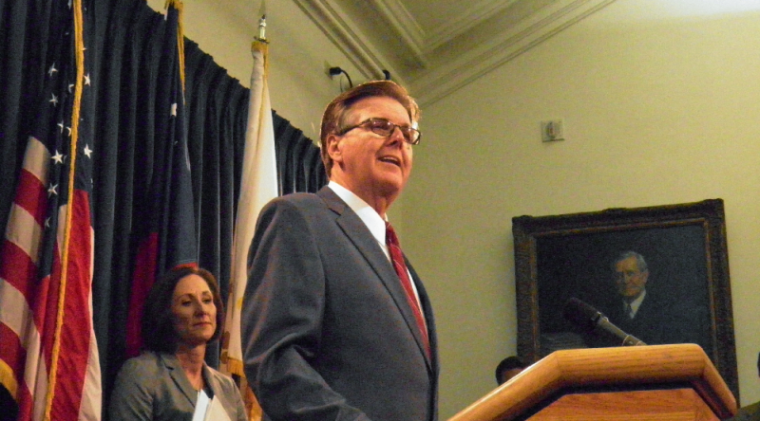 Republican Sen. Lois Kolkhorst of Brenham introduced Senate Bill 6 on Thursday, which along with prohibiting local governments from enforcing transgender bathroom ordinances would also force transgender individuals to use bathrooms and changing areas consistent with their biological sex when inside public buildings like schools and government offices.
Under the bill, citizens would be permitted to file a complaint to the attorney general's office if a government building continues allowing transgender individuals to access a bathroom that is not consistent with their biological sex. Government agencies and departments that violate the law could be subject to pay a $1,000 to $1,500 for a first offense. Then, the fine is raised to either $10,000 to $10,500 for each additional day that the building is in violation.
Along with Kolkhorst, the law is being championed by Texas Lt. Gov. Dan Patrick, who has promised to make passing the bill into law a high priority. Patrick told the media that the bill is designed to "protect businesses from government interference."
The bill comes after Texas and other states were victorious in a federal lawsuit earlier this year against the Obama administration over the Departments of Education and Justice's guidance instructing all public schools to allow transgender students to access bathrooms and locker rooms consistent with their biological sex.
"After our success in stopping President Obama's bathroom rules in court, states are now free to enact legislation of their choosing to protect privacy," Texas Attorney General Ken Paxton said in a statement shared with The Christian Post. "Texans should feel safe and secure when they enter any intimate facility, so I applaud the work of Lieutenant Governor Patrick and Senator Kolkhorst for fighting to protect women and children from those who might use access to such facilities for nefarious purposes."
Even though Patrick considers the legislation to be a high priority, Republican House Speaker Joe Straus has said the legislation is not a priority for him.
Much like what happened after North Carolina passed its House Bill 2, the law in which the Texas bill is modeled after, liberal opponents of the law came out in strong force by calling the law discriminatory.
According to the Austin American-Statesman, about a dozen protesters gathered outside the Senate chambers to protest the bill and social media is ripe with liberal opposition to the legislation. Opponents claim that the bill targets transgender individuals for discrimination.
"Discrimination of any kind is antithetical to Texas values of equal opportunity for all people," Democrat State Senator José Rodríguez said in a statement, according to the Statesman. "Any legislation that would attack transgender Texans — especially vulnerable transgender children — is not only morally wrong, but, as we've seen in states like North Carolina, will hurt Texas' economy and reputation around the world."
However, supporters of the bill say that the bill is a protection for women and girls, saying that transgender ordinances could be taken advantage of by perverts who claim to be transgender just to gain access to women's private facilities.
"The State of Texas has a duty to protect the privacy, safety, and dignity of all Texans — especially in government buildings," Nicole Hudgens, a policy analyst for Texas Values Action, said in a statement. "This law ensures common sense — men and boys should not be in girls' locker rooms and bathrooms. Since some local governments and school boards in Texas continue to push for allowing boys and men into girls bathrooms, we need a state law to have basic, consistent and transparent standards on this important issue across the state. "
Considering that North Carolina has faced all sorts of corporate and economic backlash to its decision to pass HB 2, a study conducted by MBA students at St. Edward's University for the Texas Association of Business finds that Texas could lose up to $246 million in overall GDP if the state passes a bill similar to North Carolina.
According to DallasNews.com, the estimate takes account for the loss revenue that would come from the potential canceling of the 2016 National Collegiate Athletic Association Men's Basketball Final Four in San Antonio, Women's Final Final Four in Dallas and the South by Southwest film conference in Austin and Formula 1 racing events.
Fears about the impact that Senate Bill 6 could have on the state's economy are warranted considering that North Carolina has suffered its share of economic setbacks after HB 2 was passed.
For example, the NCAA cancelled all sporting championships for 2016-2017 that were scheduled to be held in the state after the passage of HB 2. Additionally, the National Basketball Association moved the 2017 All-Star Game out of Charlotte, a number of musicians and performers canceled performances scheduled in the state and PayPal and Deutsche Bank cancelled planned expansions to the state.