North Korean Dictator Kim Jong Un Threatens to Kill Everyone in Manhattan With H-Bomb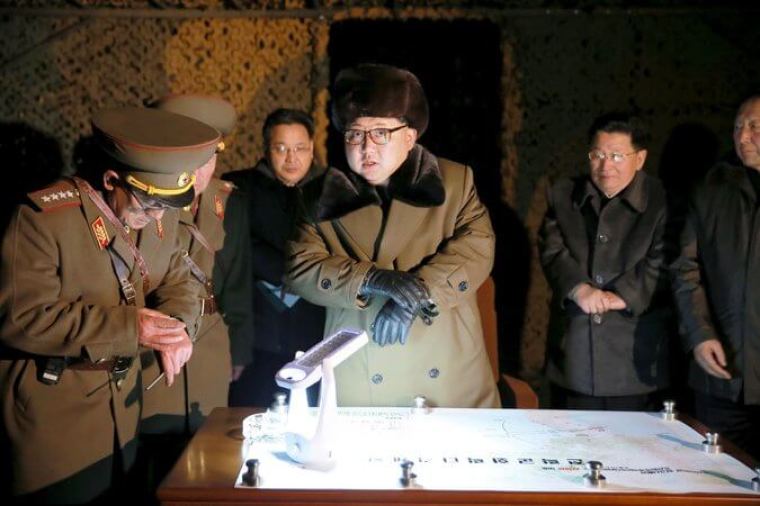 North Korean leader Kim Jong-Un has reportedly ordered a nuclear warhead test only days after threatening to destroy New York City and kill all of its residents with an H-bomb.
AFP reported that North Korea's nuclear and multiple ballistic missile tests continue despite increased United Nations sanctions against it.
KCNA news agency, North Korea's state-run media, claimed on Tuesday that Kim's government has carried out a successful simulated test of the warhead re-entry technology that would be needed to launch a long-range attack on America.
The New York Times has reported that it would be North Korea's fifth nuclear test in defiance of the U.N. sanctions, with Kim declaring that "a nuclear warhead explosion test and a test-fire of several kinds of ballistic rockets able to carry nuclear warheads will be conducted in a short time to further enhance the reliance of nuclear attack capability."
The missile tests and threats of nuclear warfare have come in response to annual military drills conducted by the United States and South Korean armies, which Kim's government sees as a threat to its safety.
On Sunday, North Korea threatened to wipe out the borough of Manhattan in New York with a hydrogen bomb on a ballistic missile, though as The Washington Post points out, the isolated regime has long been making exaggerated threats.
"Our hydrogen bomb is much bigger than the one developed by the Soviet Union," declared the state-run DPRK Today.
"If this H-bomb were to be mounted on an intercontinental ballistic missile and fall on Manhattan in New York City, all the people there would be killed immediately and the city would burn down to ashes," the report added.
It further cites a nuclear scientist named Cho Hyong Il, who says that the government's newly developed hydrogen bomb "surpasses our imagination."
While experts have expressed skepticism at North Korea's multiple claims, South Korea's Defense Ministry warned Kim's regime that its continued threats may bring about its own downfall.
"If the North continues to make provocations despite the stern warnings made by our military, it is inevitable for us to roll out a strict response that may lead to the destruction of the Pyongyang regime," South Korea's Joint Chiefs of Staff said, according to Yonhap News Agency.
Kim's government has been accused of continued human rights abuses, including mass persecution of Christians and religious people.
Back in January, persecution watchdog group Open Doors listed North Korea as the worst country for Christians in the world in its 2016 Worth Watch List.
"Getting information out of North Korea is notoriously difficult. That is what makes the fact that it remains number one on the World Watch List even more amazing. We don't even know how many Christians have been martyred in North Korea. Yet, it remains at the top. That's because it uses all of the powers of its government to suppress Christian faith, to punish even the most basic of things such as owning a Bible," Open Doors CEO David Curry told The Christian Post back then.