North Korea-US End Times Bible Prophecy, Nuclear Destruction Fears: Should Christians Despair?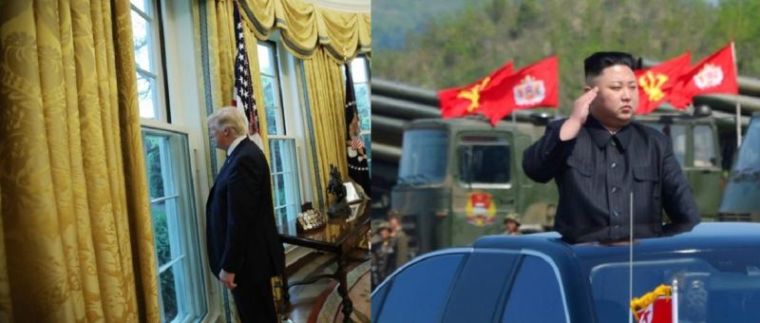 With the recent escalation of tensions between the United States and North Korea, discussions have stirred about how it fits into biblical prophecy and whether these developments should be a cause for concern about the End Times.
Pastor Greg Laurie of Harvest Christian Fellowship in Riverside, California, expressed his concerns earlier in May over America being potentially destroyed in a nuclear war with North Korea, given that both countries are missing from the events prophesied in Revelation, the final book of the Bible.
Some theologians, however, such as Dr. Samuel Lamerson, professor of New Testament and president of Florida's Knox Theological Seminary, told The Christian Post on Monday that such fears are unfounded.
"I don't see any reason to despair because one cannot find the U.S. in the book of Revelation," Lamerson told CP.
"Biblical prophecy is often very difficult to understand. In many cases one needs the fulfillment in order to understand the prophecy. One should never think that biblical prophecy is a sort of 'fortune telling machine' to let us know about specific political or social issues," he added.
Kim Jong Un's regime has stirred global concerns over its continued ballistic missile tests and harsh rhetoric against America, with President Donald Trump warning at the end of April that a "major, major" conflict with North Korea is possible.
Laurie said that the mounting tensions have him concerned: "We do not find the reigning superpower on the face of the Earth anywhere in the Last Days scenario. Other nations emerge. So where is America? I pray we are not out of the picture because we have been in some kind of nuclear conflict."
The pastor also suggested that Iran, which does play a part in End Times prophecy, could potentially acquire weapons from North Korea. Only days later, Pentagon officials revealed that they have obtained evidence that North Korea is influencing Iran's rogue missile program.
"The very first missiles we saw in Iran were simply copies of North Korean missiles," said Jeffrey Lewis, a missile proliferation expert at the Middlebury Institute of International Studies at Monterey.
"Over the years, we've seen photographs of North Korean and Iranian officials in each other's countries, and we've seen all kinds of common hardware."
CNN reported on Tuesday that officials are also investigating suspicions that North Korea might have been involved in the recent ransomware cyber-attack on computers around the world, which hit close to 300,000 machines in 150 different countries, in one of the largest incidents of its kind ever recorded.
Laurie hasn't been the only one speaking out about North Korea's potential role in the End Times. Breaking News Israel recently reported on Rabbi Levi Sa'adia Nachamanii's 1994 prediction that the isolated Pacific nation could become the greatest danger to Israel's existence.
"Not Syria, not Persia (Iran), and not Babylon (Iraq), and not Gaddafi (Libya)," the mystic rabbi said, referring to Israel's greatest threats at the time. "Korea will arrive here."
Nachmani apparently correctly predicted the Six Day War in 1967 and the Yom Kippur War in 1973, and cited a verse in Deuteronomy warning of a distant country that one day would become a major threat to the world.
Lamerson said that although political leaders need to be wary of the actions of Kim's regime, it would be far–fetched to connect it to specific warnings in the Bible.
"First, I believe that North Korea is home to a terrible dictator who may cause some sort of war or start some problem that turns out to be much larger than anyone expected. I pray for President Trump and other world leaders as they sort through this difficult problem," he told CP.
"Second, the Bible in general and the book of Revelation in particular does not predict this specific international problem. This is not the first, nor will it be the last, cry of annihilation or world destruction based on a misunderstanding of the biblical prophecy," he added.
The New Testament professor added that the book of Revelation, while a piece of apocalyptic literature, was written in the first century, and cannot be treated as a sort of "psychic hot line" for Christians.
"The book has been a sort of 'wax nose' in Christendom. It has been pulled and pushed in so many different ways that one can find someone espousing almost any view and claiming that Revelation supports it," he argued.
"The book was written to a first century audience and without that understanding the reader ends up doing damage to the text and imposing their own view rather than letting the text speak for itself."
Earliest this year, Lamerson also dismissed speculations that Trump, who in January took office as U.S. president, could be a reference to "the last trump" mentioned in the Bible, also regarding the End Times.
"First of all, it only works in the English language. The New Testament was written in Greek. Second of all, it only works in the King James Version and some other older translations. Many other translations will have 'trumpet' instead of 'trump,'" Lamerson explained, referring to 1 Thessalonians 4:16 and I Corinthians 15:52, which state in part that "the dead in Christ shall rise first" at the "last trump."