Northern Ireland Looks to 'Game of Thrones' for Tourism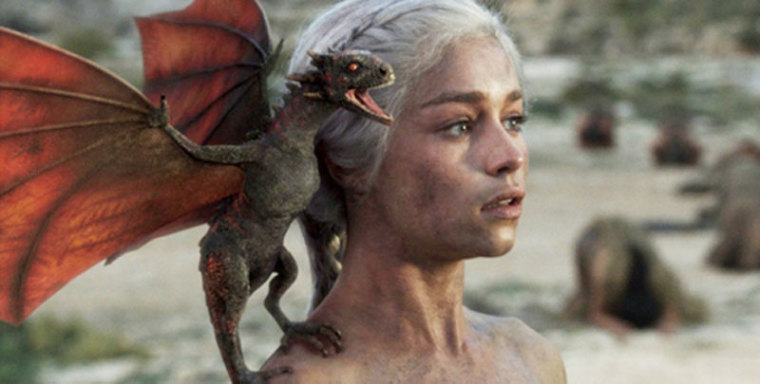 Tourism officials in Northern Ireland announced HBO's hit show "Game of Thrones" may do more than mesmerize viewers with adult themes and political intrigue – they're planning on using it to draw visitors.
"Northern Ireland's Enterprise Minister Arlene Foster announced the tourism strategy Wednesday but gave no details," The Associated Press reported. Much of the HBO TV series is filmed in Northern Ireland, since the fictional Westeros fits with its historic landscape of castles and rugged coastlines.
"Game of Thrones" follows the book series, "A Song of Ice and Fire," by American author George R.R. Martin. Set in a fictional medieval fantasy land, it centers around the themes of adventure and political intrigue, dragons and zombies, sex and violence.
According to the AP, Foster said the ministry aims "to attract more than 2 million visitors a year to Northern Ireland by 2016." About 1.8 million visited the country this year. The latest season of the HBO show averaged 13.6 million viewers, up by two million from Season 2 in 2012, according to The Hollywood Reporter. The last episode alone garnered 5.4 million viewers.
"We are of course thrilled by the enthusiasm expressed around Game of Thrones," Jeff Cusson, senior vice president of Corporate Affairs at HBO, told The Christian Post in an email statement.
"Northern Ireland has been its home from the beginning and fans' desire to visit the locations there shows the passion that exists for the series," Cusson added. He did not comment on whether or not HBO shows have been used to promote tourism in the past.
Foster, Northern Ireland's enterprise minister, discussed her plans with the BBC. "In order to attract new and repeat visitors, Tourism Ireland will be seeking to capitalize on the huge popularity of Game of Thrones," she confirmed.
"It is essential Northern Ireland stands out from other destinations," Foster added, admitting that her ambitious goals are "challenging targets." In addition to Game of Thrones, golf is "a key sector" in driving tourism to Northern Ireland, the official said.
Northern Ireland isn't the only business partner for HBO in recent news, however. Google struck a deal with the company to make the series available on its TV service, beating its rival Apple iTunes, The Guardian reported Tuesday.
"We are delighted to bring our wide range of programing to Google Play in the UK, and expand on our existing relationship in the US," HBO's director of international digital distribution, Colin Smith, told The Guardian. In addition to "Game of Thrones," Google Play has the rights to stream "Boardwalk Empire, "True Blood," "Girls," and "Veep." The deal even includes older shows, like "The Wire," "The Sopranos," and "Band of Brothers."
George R.R. Martin, author of the series "A Song of Ice and Fire," which "Game of Thrones" is based on, did not respond to requests for comment by press time. While rumor has it that he has returned to writing the forthcoming sixth book, "The Winds of Winter," Martin has also requested space from his fans, to write in peace.