'Not in the Bible' Shouts Anglican Priest Who Disrupts Ceremony Consecrating First Ever Woman Bishop in Church of England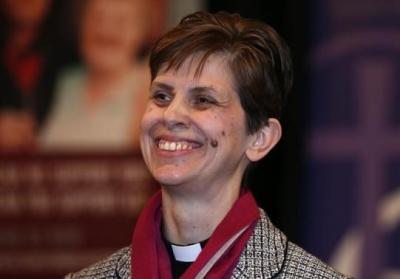 A Church of England priest briefly disrupted the consecration ceremony for the first ever female bishop in the church after he shouted "not in the Bible." The ceremony went on as planned, however, and the Rev. Libby Lane was ordained as the Bishop of Stockport in front of over 1,000 people.
"It is a remarkable thing that this happens to me, and people have been very supportive of me personally, but actually this is about a moment in the Church's history," Lane said, reflecting on the occasion.
BBC News reported that the priest who spoke out was the Rev. Paul Williamson from Hanworth, West London. Williamson made his views heard after the Archbishop of York, John Sentamu, asked during the ceremony whether Lane should be ordained as bishop.
Back in December, the Church of England made history when it announced the appointment of Lane as its first woman bishop, breaking centuries of tradition that had defined the position as exclusive to men.
Most in the Anglican leadership, including the Archbishop of Canterbury, the Most Rev. Justin Welby, have backed the change.
"Her Christ-centered life, calmness and clear determination to serve the church and the community make her a wonderful choice," Welby said about Lane.
"She will be bishop in a diocese that has been outstanding in its development of people, and she will make a major contribution. She and her family will be in my prayers during the initial excitement, and the pressures of moving."
More conservative voices in the Anglican communion have argued that tradition should not be broken on this matter, however.
"There is still at least a quarter of the Church for whom this package does not provide for their theological convictions," said Susie Leafe, director of the conservative evangelical group Reform, after the Church of England approved women bishops in the major vote in July 2014.
A Church of England spokesperson identified Williamson as one such voice, who has often made his opposition to female bishops clear.
"He's got the right to protest but the contrast was between a lone voice protesting and a sea of voices affirming," said the spokesperson, who wasn't named.
The Telegraph noted that Williamson also protested in the 1990s when the first female priests were ordained.
In February 1994, he even accused the Church of England of "treason" for going against the Bible and elevating the role of women within the Church.