'Not What We've Been Praying For': North Korean Christians Push Back on 'Historic' Peace Talks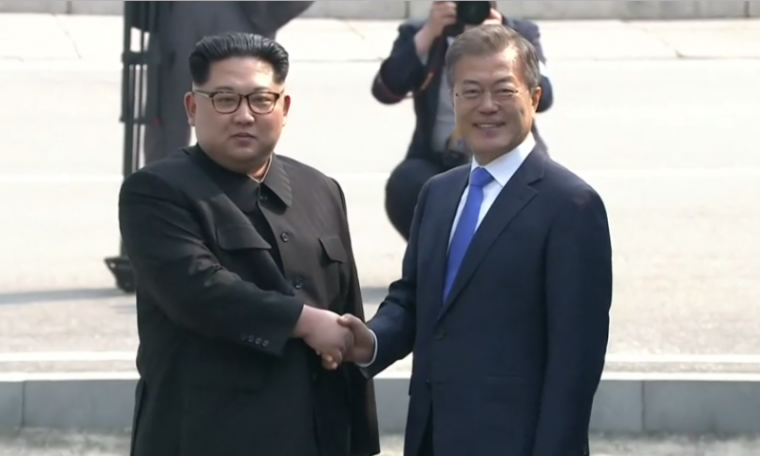 While the historic peace talks summit between North and South Korea at the end of April drew media attention, an activist and pastor has warned that without a focus on human rights, the developments are not an answered prayer for North Korean Christians.
Pastor Eric Foley with Voice of the Martyrs Korea told Mission Network News on Friday that the Inter-Korean Summit did little to advance human rights despite a commitment for the peninsula to go nuclear-free.
At the summit, North Korean dictator Kim Jong Un and South Korea's President Moon Jae-in signed the Panmunjom Declaration for Peace, Prosperity and Unification on the Korean Peninsula.
"This is not what we've been praying for," is the message from an underground network of North Korean Christians that Foley shared.
"Over the weekend, I've had the opportunity to speak with a number of North Korean Christians and ask them the question, 'What do you think?' Their response is that they are very surprised that believers in the rest of the world have set aside the things we've been praying for related to North Korea and are receiving the current circumstances as kind of an answer to prayer," he added.
Foley pointed out that North Korea has made numerous promises of going nuclear-free in past decades as well, with hopes of peace never actually materializing.
He said that what the world must remember is that there are as many as 30,000 Christian believers in concentration labor camps in North Korea, among many others, while another 70,000 Christians have to hide their faith and live in secrecy.
"North Korea always wants to focus the rest of the world's attention on its own belligerence toward other nations," Foley warned.
"So what they're saying here is, 'We will be less belligerent toward you in exchange for certain concessions.' But notice what North Korea is not willing to talk about, and that is the war on their own people. This is what North Korean Christians remind us to stay focused on."
The pastor clarified that North Korean Christians are not against peace efforts, but they realize that real peace can only come through a transformation of the human heart, which they do not yet see in the current talks.
The pastor's comments come as three American Christians being held by the Kim regime are hoping to be released soon.
U.S. President Donald Trump hinted on Twitter last week that his administration might be close to securing their release, though as of Tuesday morning that has not yet happened.
Suzanne Scholte, who chairs the North Korea Freedom Coalition, separately told The Christian Post in April that unless the U.S. focuses on getting North Korea to agree on improving its human rights record, then any negotiations will be fruitless.
"I am very skeptical," she said about the planned meeting between Trump and Kim.
"They go through this cycle, where they indicate that they are willing to talk, and they draw us into negotiations, and then they don't follow through, and break their promises. They have never kept their word on any agreement."
Scholte said that what Kim needs to do to demonstrate that he really is willing to change is to start releasing innocent people from prison.
"Stopping the torture and detention of people. Stop persecuting people for religious faith. If they would end that, those would be some signs" of good faith, she listed.