NY Gov. Cuomo's Abortion Plank Back in Play in New York Senate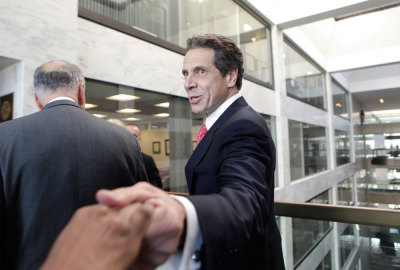 New York lawmakers have extended their legislative session through Friday and will be voting on Democrat Gov. Andrew Cuomo's "Women's Equality Act," which the governor has now divided into 10 separate bills, and includes the proposal that will expand late-term abortions past 24 weeks and allow "any health care provider" to perform abortions, despite Republican and Independent Democrat Coalition members' previous attempt to block the abortion proposal earlier this week.
"The abortion plank is still in," a spokesperson for Sen. Jeff Klein (D-Bronx/Westchester) told The Christian Post on Wednesday. "It's a stand-alone bill, but there's no guarantee that it will make it to the Senate floor. They're playing that out today, over the next few hours."
In a statement released on Sunday, Cuomo related his Women's Equality Act to the women's suffrage movement that started at the Women's Rights Convention in Seneca Falls, N.Y., in 1848.
"New York has been at the forefront of important social and legal movements that have advanced the equal treatment of all people," Cuomo said. "Today, I stand proudly in solidarity with the members of the 850 women's advocacy groups, and call on the leadership and members of both houses to introduce and pass all 10 points of the Women's Equality Act before the end of this legislative session. Each and every one of these issues is vitally important to the future of women in our state. New York is the last place where women's rights should be held back; it is the place where they must move forward."
Republicans and members of the IDC, led by Klein, hold a majority in the senate over mainline Democrats and find agreement with nine of the 10 bills that comprise the governors Women's Equality Act, such as achieving equal pay for women, stopping sexual harassment, strengthening human trafficking laws, ending pregnancy discrimination, and strengthening protections for domestic violence victims. Republican members are opposed to Cuomo's abortion provision, which they see as being an expansion of late-term abortions, despite the governor and abortion-advocates' claim that it won't increase the number late-term abortions.
Klein said that the "IDC would like nothing more than to bring [the abortion] provision to the floor," but said, "the votes just are not there," Bloomberg reports.
According to Serrin Foster, president of Feminists for Life, if the New York legislature passes the abortion provision, it will only "increase the number of high-risk, late-term abortions in a state that already has the highest rate of abortions in the United States."
Mike Murphy, communications director for Sen. Andrea Stewart Cousins (D-Yonkers), told CP last Friday that, "the abortion provision is not seen as an expansion of abortion, but merely a codification of Roe. v. Wade."
Earlier this month, Cuomo touted his Women's Equality Act during a speech at Vassar College in Poughkeepsie, N.Y., in which he asked the audience to push lawmakers to vote in favor of his 10-point plan, especially the expansion of abortion. Cuomo said pro-life groups that "believe in the right to life, and that abortion is murder and it should be stopped," are affecting the state's political system and are attempting to "roll back the protection that makes abortion legal." He implored New Yorkers to proactively call their state representatives and thwart the efforts of the pro-life movement.
Kelly Cummings, spokeswoman for Sen. Skelos (R-Nassau County), who co-leads the Senate, said, "From the start, we've said that what the governor is proposing is either unnecessary or an extreme measure that expands late-term abortion. Nothing has changed."