NYC Homeless Campaign 'Don't Walk By' Teaches to Not Ignore City's Poor
NEW YORK – New York City stands as one of the richest and most glamorous metropolitan areas in the world, but it is also a city where people walk by tens of thousands of homeless people each night without offering or even knowing how to offer a helping hand. A joint campaign by some of the city's top charity organizations, stretching throughout the month of February, is seeking to address that problem, and offer new hope to the many hurting and needy people.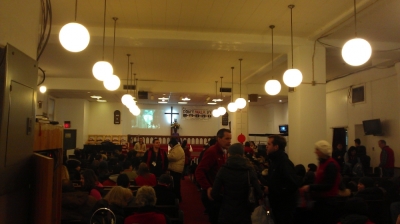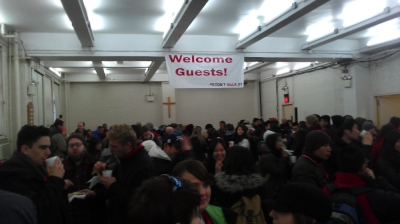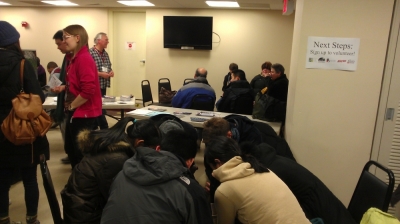 "'Don't Walk By' changed my life," said Katrina Monta, Executive Assistant to the President at New York City Relief, one of the participating groups, at the Feb. 2 outreach event in Downtown Manhattan, attended by The Christian Post. Monta was a volunteer at "Don't Walk By" back in 2010, and through that she ended up coordinating the event for The Bowery Mission in 2011, eventually leading to her involvement with New York City Relief.
"It was an eye opening experience because I got to do everything that Jesus was asking me to do as a Christian, which is kind of stoop down and learn how to love the outcast and live out my faith together as the Church. As a New Yorker, you are confronted with it every day – riding the trains, walking down the streets – and a lot of people don't know how to deal with that – it's an internal conflict," Monta explained of the homeless problem in the city.
"Don't Walk By," now in its fifth year, brings together groups of volunteers who fan out across all stretches of Manhattan throughout the month of February on a search and rescue mission for the homeless. Volunteers go out on the streets and into the subways, seeking to offer every homeless person they encounter food, clothing, blankets, and invite them over to one of the participating churches in the program that provide shelter, as well as residential and recovery programs that seek to equip them with the tools and recourses they need to start rebuilding their life.
The campaign explains that its mission is a direct response to Christ's teaching in the parable of the Good Samaritan, and provides "a complete holistic residential recovery program that offers [homeless people] new life in Christ and educational, vocational and housing solutions."
Monta said that the campaign is especially useful in teaching people the practical ways of living out the moral story behind the Good Samaritan.
"Churches can teach about it, but sometimes people aren't equipped with the practical ways of how to learn to love the poor in their communities. 'Don't Walk By' is the perfect opportunity that all these ministries took on to really teach the church how to live out their faith on a daily basis," Monta continued.
"Four times a year, planting a seed in people that will grow into a lifestyle. That happened with me – not everyone will be an urban missionary. But just regular people walking down the street going to work or whatever, they can actually bridge the gap and show God's love."
"Don't Walk By" takes place every Saturday during freezing temperatures in the month of February, and according to Whitney Edge, the main coordinator of "Don't Walk By," the first event on Feb. 2 drew more than 300 volunteers who engaged 180 people on the streets and in the city's many subway stations. Seventy-one of the homeless people reached decided to take the option of staying at one of the host churches for the evening, and were driven there by vans coordinated by the campaign.
Bill Rinko-Gay, a team leader who has been involved with "Don't Walk By" every year since its conception, shared with CP:
"You get to spend several hours with some really amazing people, because when you think about the kind of person who will give up a Saturday afternoon to go out in 20-something degree weather to hunt for people who have no homes – you already know that they are going to be a unique kind of individual. We walk the streets for several hours and get to know one another. Even if you get nothing else from 'Don't Walk By,' you get to meet some amazing people who will cause you to think about your life in a different light."
Homelessness is a massive problem in New York, with the Coalition for the Homeless reporting that each night more than 50,000 people, including 20,000 children, experience homelessness. During the year, more than 110,000 New Yorkers spend at least one night in the municipal shelter system – and freezing temperatures can prove deadly for those who are unable to find a warm place to spend the night.
"The other thing is, after my first training, I realized that I had been walking around homeless people like they were piles of stuff in my way," Rinko-Gay said. "I couldn't even look them in the eye, because it's embarrassing to not help. I had been made aware that if you give them money, they will only buy drugs and alcohol – so you don't want to do something that will hurt them, but you have no idea what to do to help. The practical training of 'Don't Walk By' can be used every day of the year."
The team leader said that the goal of the campaign is not to make every person who has walked by a homeless person without giving them aid feel guilty about it, but to inspire people to create real positive change.
"Their lives will be changed in ways that they can't imagine, just for being involved with these people in this kind of way. Everyone should do this once – for a lot of people, they'll never be able to stop."
Maki Sonobe, who volunteered as a street team leader for the first time at "Don't Walk By," said that she was amazed at how the teams were able to go through entire areas in downtown Manhattan and reach out to people who are in need.
"Sometimes you just need to open up a dialogue with them. Unfortunately, on a daily basis, whenever you see a homeless person on the side, you just walk by. Today, you get an opportunity to stop there, and open up a dialogue and offer a conversation, a hot meal, and transportation so they can go to the shelter," Sonobe said. She added that the outreach efforts not only help the people in need, but inspires change within the volunteers themselves.
As for her advice for people who are thinking of volunteering, Sonobe offered: "Do the same thing I did – go online, and google, Bowery Mission. There are tons of events, tons of missions to help out people. Honestly, it only took me an afternoon to do this, but it meant, for me, so much. I think everyone can do this."
"Don't Walk By" is still accepting volunteers for its street, subway, and hospitality efforts throughout the month of February, but the participating missions and charity groups – Street Life Ministries, The Relief Bus, The New York Rescue Mission, Hope for New York, The Bowery Mission, and Betel America – can use the help of compassionate individuals year-round in the various projects they are involved in.