NYC Rapper Brimstone, Saved in Prison, Combines Passions for Rap and Evangelism Into a 'Train Ministry'
'Jesus Tells Me to Go Out and Sow His Seed, So That's What I Do,' Says Gospel Rapper Born Elsworth Hewitt
NEW YORK — A Gospel rapper, who said Jesus "saved me from everything ... all types of evil" while he was an inmate at notorious Rikers Island prison, is on a mission to spread the Good News on the subways of New York City, because he believes that is what Jesus wants him to do.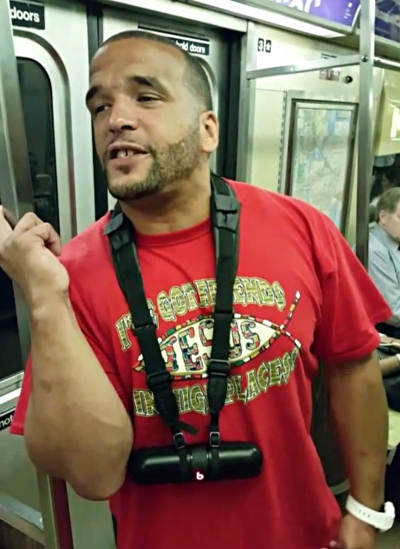 Elsworth Hewitt, 37, adopted the name Brimstone when he decided to become a Gospel rapper while at Rikers Island where, up until a few years ago, he was housed in a facility with more than 300 other adult male offenders.
It was there he started rapping for Jesus, although he had long been a hip-hop fan.
His pastor at the time, the Rev. Winston Cato, the administrative chaplain — supervisor of the chaplaincy at Rikers — used to encourage him to share his passion for rapping with the other inmates during church services.
"He used to rap more secular rap, and I believe when he converted he wanted to rap in a way that exalts his faith," Cato told The Christian Post.
The chaplain said he would occasionally ask Brimstone if he had any music he wanted to share.
"He'd say, 'Yeah, I got a song.' So I said, 'Go ahead' and I let him do it. It became a regular thing and a great encouragement to our services. And it encouraged the other men also because they saw the change in him. And they figured, 'If Elsworth can change, so can I.' So it was positive all the way around," said Cato.
He explained that once Hewitt started attending services in prison, "His whole attitude changed, his whole focus changed. What you are seeing is the result of that change."
Brimstone, who prefers to be called by his rap moniker rather than by his "government name," remains close with Cato, who baptized him at Rikers in 2009.
Out of prison, Brimstone still likes to have a captive audience.
"That means that I sow the Lord's seeds on the train," the rapper explained when asked to describe his "train ministry."
"You know the train is a different kind of evangelistic ministry, because when you evangelize in the street, people have an option to take the tract or to walk away. People have the option to listen or to walk away. You know, they have an option. On the train, you ain't got no option. When those doors close, you're gonna get it," he said.
Brimstone believes he is doing God's will when he hops onto a subway car and delivers the Good News in rap — during this particular Aug. 6 morning commute — over a Capone-N-Noreaga beat.
Today, if you hear His voice, don't harden your heart
God sent His son to tear it apart
Don't believe man or anything he say
Believe the Word of God, Jesus Christ His Way
Die today, tomorrow or next month or next year
But as long as you're in Christ you ain't got nothing to fear
He gives eternal life, He's the sacrifice for sin
The fullness of God dwells in Him
"My name is Brimstone. I'm not poor, hungry or homeless — thank God. I just love rapping on the train for Jesus and I accept any donation to keep my train ministry alive," he says at the conclusion of his sermonic song.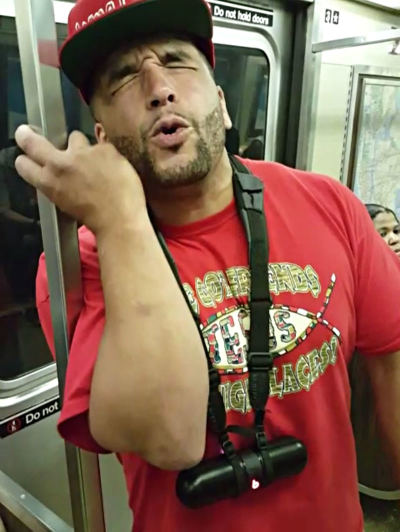 In this particular subway car, Brimstone's audience is comprised of about two dozen people, a few of them with their heads bowed — not in reverence thanking God that it will soon be Friday, but instead lulled into a state of not-quite-consciousness and not-quite-sleep by the predictable train ride.
Brimstone, clad in a red T-shirt embellished with the name "Jesus" inside the image of a fish, walks up and down the car with his red snapback (that has "Jesus Christ" stitched in white across the front) turned up in his hand to catch any donations. Notably, a few dollar bills fall in, and one woman drops a five in exchange for his 22-track self-titled CD — one of the more pleasant responses to his come-to-Jesus songs on the train.
"I've gotten attacked on the train," the rapper told CP, who tagged along for two of his performances that Thursday morning. "I've had people say nasty things to me. I've had people do unbelievable things to me. The worst thing is that a lady attacked me one time."
He referenced the Beatitudes, specifically Matthew 5:11 in which Jesus tells His disciples, "Blessed are you when people insult you, persecute you and falsely say all kinds of evil against you because of me."
"But Jesus says when these things happen, rejoice because great is your reward in the Kingdom of Heaven," Brimstone said, before launching into a mini-sermon.
"When people call you evil and do all [kinds of] nasty things to you for His sake, for Jesus' sake, He says be glad and dance for joy. So I'm happy when they do that stuff because I know that if they rejected Him ... Jesus said no teacher is better than his student," he said.
"So no teacher's better than his student and He's the teacher and the world has rejected Him. They hung Him on a cross and killed Him. ... So if they rejected Him and persecuted Him, of course they're gonna reject me and do all [kinds of] crazy stuff to me too. But I don't care because I follow Jesus, that's why. And I do what He tells me to do and He tells me to go out and sow His seed and tell people about Him, so that's what I do," said Brimstone.
And he usually does it with his eyes closed, because sometimes the responses come in the forms of "dirty looks," or awkward glances.
As he explained it, "there's so many people of other religions and so many people get offended. … So if I leave my eyes open, they try to take the energy from me with their filthy, dirty disgusting looks."
He has also noticed that among those who do find his message and delivery intriguing, they seem to find it awkward just simply staring at him while he raps.
"They're listening but they don't want to stare at me, you know what I'm saying. So I know with my eyes closed people are looking at me and paying attention," he said.