Oakland Raiders QB Derek Carr Pulls Over to Pray With Stranded Driver on Roadside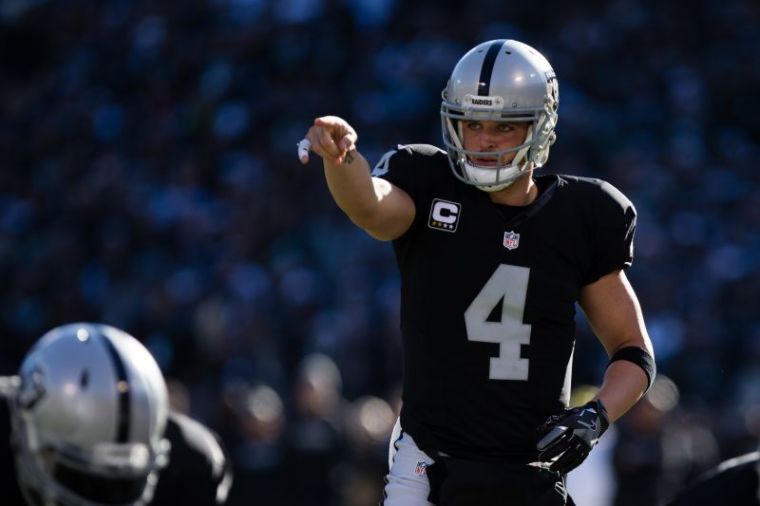 Oakland Raiders quarterback Derek Carr restored a California man's faith in humanity when he pulled over on the side of the road last week to pray with the distressed motorist after his car had run out of gas in an Oakland suburb.
Bay-area DJ and music producer Ron Reeser told the football blog All22.com about his run-in with the 25-year-old Pro Bowl quarterback in Dublin, California, last Tuesday afternoon.
Reeser explained that he ran out of gas and pulled over to the side of the road. Right as he was ready to take a gas can and walk to the nearest gas station, he recalled a man in a dark SUV pulling up next to him. Reeser said the man asked if he was OK and offered to drive him to the gas station.
Reeser said that he did not immediately recognize that the man who was giving him a ride to the gas station was the Raiders quarterback. He and Carr initially spoke about Reeser's career in the music business. Eventually, he asked Carr what he did for a living.
Carr told him that he was a football player but wants to become a pastor when he retires. It was on the way back from the gas station that Reeser asked more questions about Carr's football career.
"He said he was a quarterback. I thought he was a college quarterback," Reeser explained. "I asked him what string he was. He said 'first string.' I asked him his favorite team. He said, 'I may be biased, but the Raiders because I play for them.' I looked at him and said, 'Wait' ... and I asked him his name. He said 'Derek Carr.'"
Reeser said that he "had no idea" that it was Carr who had kindly pulled over and taken him to the gas station.
"He couldn't have been more down to earth. He was wearing a hat and basketball shorts. I had no idea. He was just driving by and helped," Reeser stated. "It really made me feel good that there are good people still out there doing nice things for people."
After Reeser and Carr arrived back at his car and exchanged contact information, Carr asked if he could pray for Reeser. The quarterback asked if there was anything specific that he could pray for. After Reeser listed three things, Carr put his hand on Reeser's shoulder and began to pray.
"It was such an empowering moment," the DJ explained. "It's just not something I expected to happen after running out of gas. Some of the people I've told about it said maybe it was a sign to help me restore my faith in people doing the right thing."
Even though Reeser is a fan of the San Francisco 49ers, he told All22.com that he might now have to begin rooting for the Raiders.
Reeser also took to Twitter to thank Carr for his help.
"thank u for the help & prayer today@derekcarrqb you've restored my faith in humanity & appreciate u taking the time #godbless #payitforward," Reeser wrote in the tweet.
Carr responded with a tweet of his own. "God bless you too! Anytime!!!! But hopefully not on the side of the road again," the quarterback wrote.
In January, Carr was credited with helping the local police department in Oakland locate a missing 3-year-old child when he retweeted a tweet by Lt. Chris Bolton that included the bulletin for the missing child. Within 24 hours after Carr's retweet, the child was located. Bolton issued a tweet thanking Carr for his retweet. "So it appears the secret to sharing local missing child info is a RT by your local @NFL QB. Thank you, @derekcarrqb! Child safely located!" Bolton wrote.