Obama Administration Must Nominate Religious Freedom Ambassador Says Russell Moore
The Southern Baptist Convention's Ethics & Religious Liberty Commission President Russell Moore has called on President Barack Obama to fill the Ambassador-at-Large for International Religious Freedom, which has been vacant since Suzanne Johnson Cook resigned in October.
Moore specifically recommended that the President nominate outgoing Rep. Frank Wolf, R.-Va., who has already announced that he will not run for reelection this year.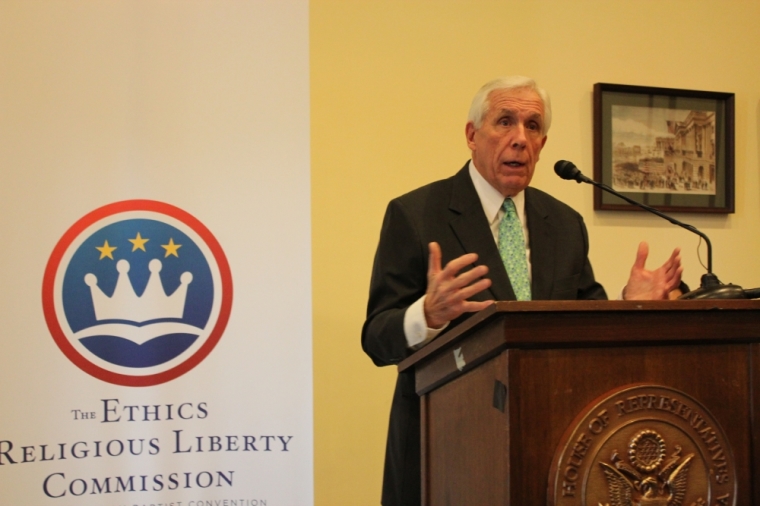 "Congressman Wolf is a tireless and unparalleled advocate for persecuted religious minorities," Moore wrote in the letter. "No one has done more in fighting for human rights and the protection of religious minorities than him during his distinguished career of over thirty years in the United States House of Representatives."
In his final year of elected public service, Wolf has continued to lobby for the victims of religious persecution. In May, Wolf and fellow co-chair of the bipartisan Religious Minorities in the Middle East Caucus, Rep. Anna G. Eshoo (D-Calif.), entered a pledge supporting persecuted Christians in Syria, Iraq and Egypt. Wolf has also advocated on behalf of pastors Saeed Abedini in Iran and Kenneth Bae in North Korea.
Wolf was the author of the International Religious Freedom Act of 1998. IRFA created the U.S. Commission on International Religious Freedom and the post of Ambassador-at-Large for International Religious Freedom within the State Department. It also allowed for sanctions to be placed on nations that infringe upon its citizens' religious freedom.
Cook, a former faith advisor in the Clinton White House, was nominated for the position by President Barack Obama and assumed it in April 2011. She was only the third person and first woman and African-American to hold the title, which was created by IRFA.
At the time Cook was nominated, Obama had been criticized for letting the role be vacant for more than two years. (The previous Bush administration had kept the position vacant for over a year and a half.)
Yet, Cook was scheduled to be confirmed in November 2010, but the process was stymied when former Senator Jim DeMint, R-S.C., delayed her confirmation by letting her nomination expire that month, citing concerns about her lack of diplomatic experience.
Moore suggested this most recent delay — it has been seven months since Cook first stepped down — communicated "an indifference to the cause of religious freedom around the world on the part of the United States."
This indifference is something which Wolf himself had commented on last month.
"I regularly meet with beleaguered Christians from this part of the world … In the face of this violence, Christians are leaving in droves," Wolf told The Christian Post. "The resounding theme that emerges is quite simply a plea for solidarity, and an appeal for help. Where is the West they wonder?"