Russell Moore to US Christians on Middle East Persecution: 'This Ought to Matter'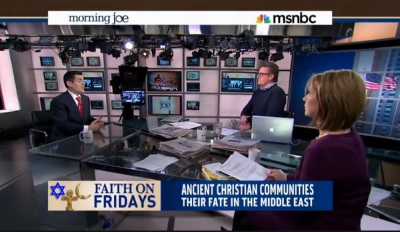 Evangelical Christians should pay more attention to their persecuted Middle Eastern counterparts, argued Russell Moore, the President of the Southern Baptist Ethics & Religious Liberty Commission, during an appearance on MSNBC's "Morning Joe" on Friday.
"We're trying to call our churches… to care about this: to talk about in sermons, to pray about on Sunday mornings and to start focusing our attention on it," Moore told host Joe Scarborough.
He also suggested that people turn to the back pages of their Bible where often, historical maps are displayed, and say, "Iraq. That's not just a national security issue, that's where Abraham was from. And Syria, that's the road to Damascus, that's the Apostle Paul." Moore added, "That's our story and history. This ought to matter."
When Scarborough pressed Moore on why Christian politicians and citizens had been relatively muted about persecution in comparison with Sudan 10 years ago, the Southern Baptist leader did not directly address the discrepancy, but attributed the overall apathy to a sense of confusion about the issues and the geographical distance from them.
"So many people wonder 'Well, what could we do about it anyway? We're not going to invade the Middle East again in order to deal with it,'" said Moore. "…And then there's just the daily news cycle. People are talking about Justin Bieber, about the things that are happening daily around them right now."
Moore pointed to evangelicals' attention on the plight of Iranian-American pastor Saeed Abedini, who has been imprisoned in Iran since Sept. 2012, as one sign that they were gradually becoming more aware of persecution issues.
"Facebook is full of evangelicals telling each other 'Let's pray for Pastor Saeed,'" said Moore. "As it becomes personal it starts to become more of an issue for people."
Moore lamented that few evangelicals in Congress, besides Rep. Frank Wolf (R-VA), who will not be running for reelection this year, have prioritized persecution.
"[Wolf's] the guy who's standing there all the time saying 'I'm not going to let you ignore that. We have to pay attention to this.' We need more of this," said Moore.
Although force may not be a consideration under American foreign policy when it comes to fighting Christian persecution, Moore said that campaigning for global internet freedom was one method that could support the beleaguered community.
Breaking down Internet firewalls, especially in parts of the world where persecuted communities exist, so that their status and message can be known, should be a focus, Moore said. "To connect with one another, I think that's going to be a major, major initiative in fighting persecution around the world."